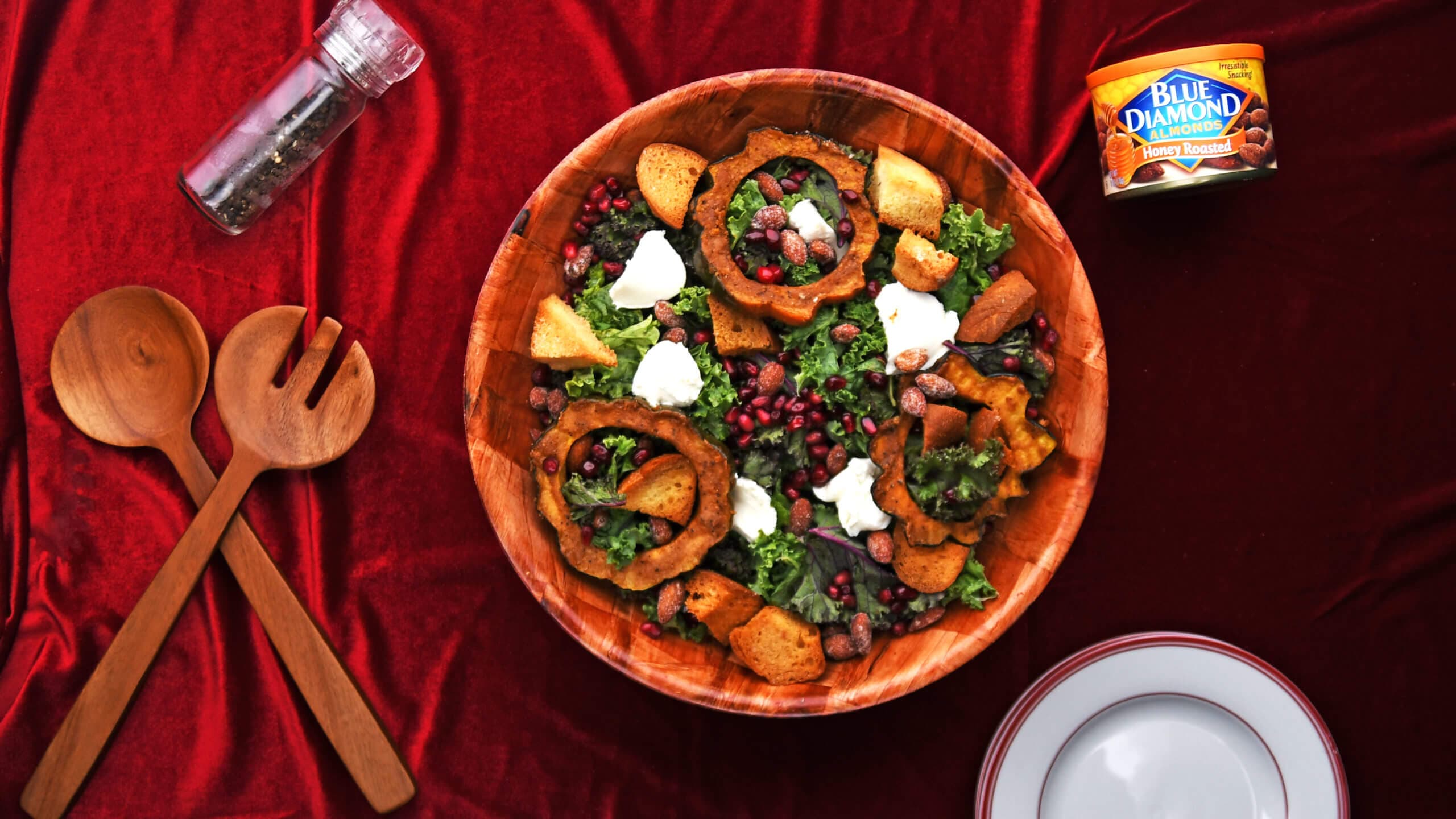 Our Favorite Recipes Featuring Snack Nuts
Are you looking for delicious snack and meal ideas to enjoy throughout your day? Almonds make a flavorful addition to many recipes. They can be used as toppings, mix-ins, or even the main ingredient. Whether you're looking for recipes everyone at the family dinner table will devour or something perfect for just one person snacking on the go, we have rounded up some of our favorite recipes featuring Blue Diamond's Snacking Almonds that are sure to please any plate!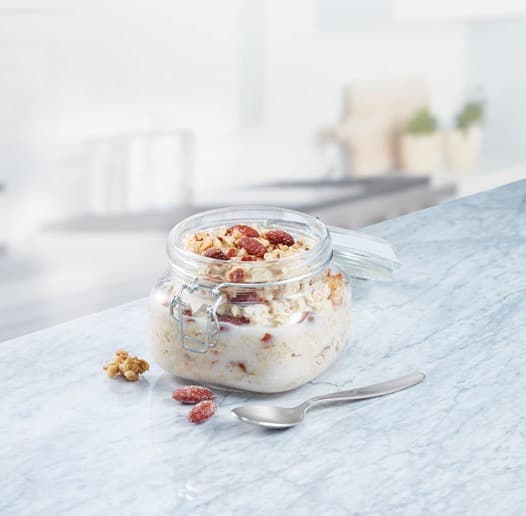 Classic overnight oats are the perfect go-to recipe when you're short on time yet still want to make something tasty! With just a few simple ingredients and minimal effort, overnight oats can be made into delicious bowls of comfort for breakfast or any other meal. As a bonus, these oats can easily transition from sweet to savory, giving you endless options for adding different mixes and toppings. This almond recipe is great for those looking for extra protein and a nutty texture, with vanilla almond milk and honey roasted almonds. Whether eaten cold or warm, overnight oats are the perfect way to fit in a fast breakfast with minimal preparation.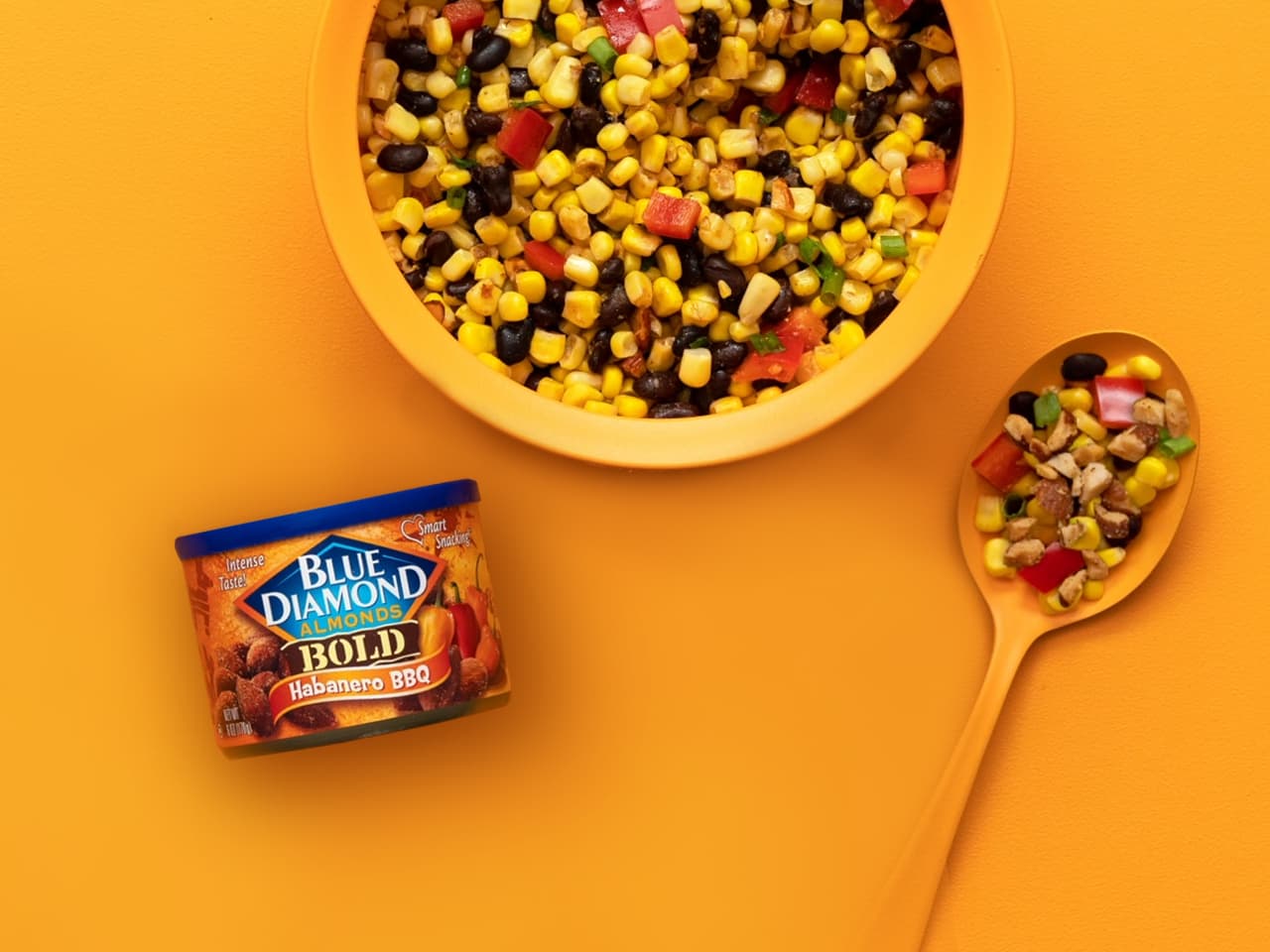 With spring in the air and summer just around the corner this unique Habanero BBQ Corn and Black Bean Salad is an easy-to-serve almond recipe at any outdoor gathering. This flavorful vegan salad has everything you need for an amazing dish -combining sweet corn, black beans, Mexican seasonings, Habanero BBQ flavored almonds, peppers, and a lime vinaigrette. It's easy to make and light, perfect for large gatherings. So take advantage of all tastes of summer with this tantalizingly tasty dish, whip up a batch of Habanero BBQ Corn and Black Bean Salad today!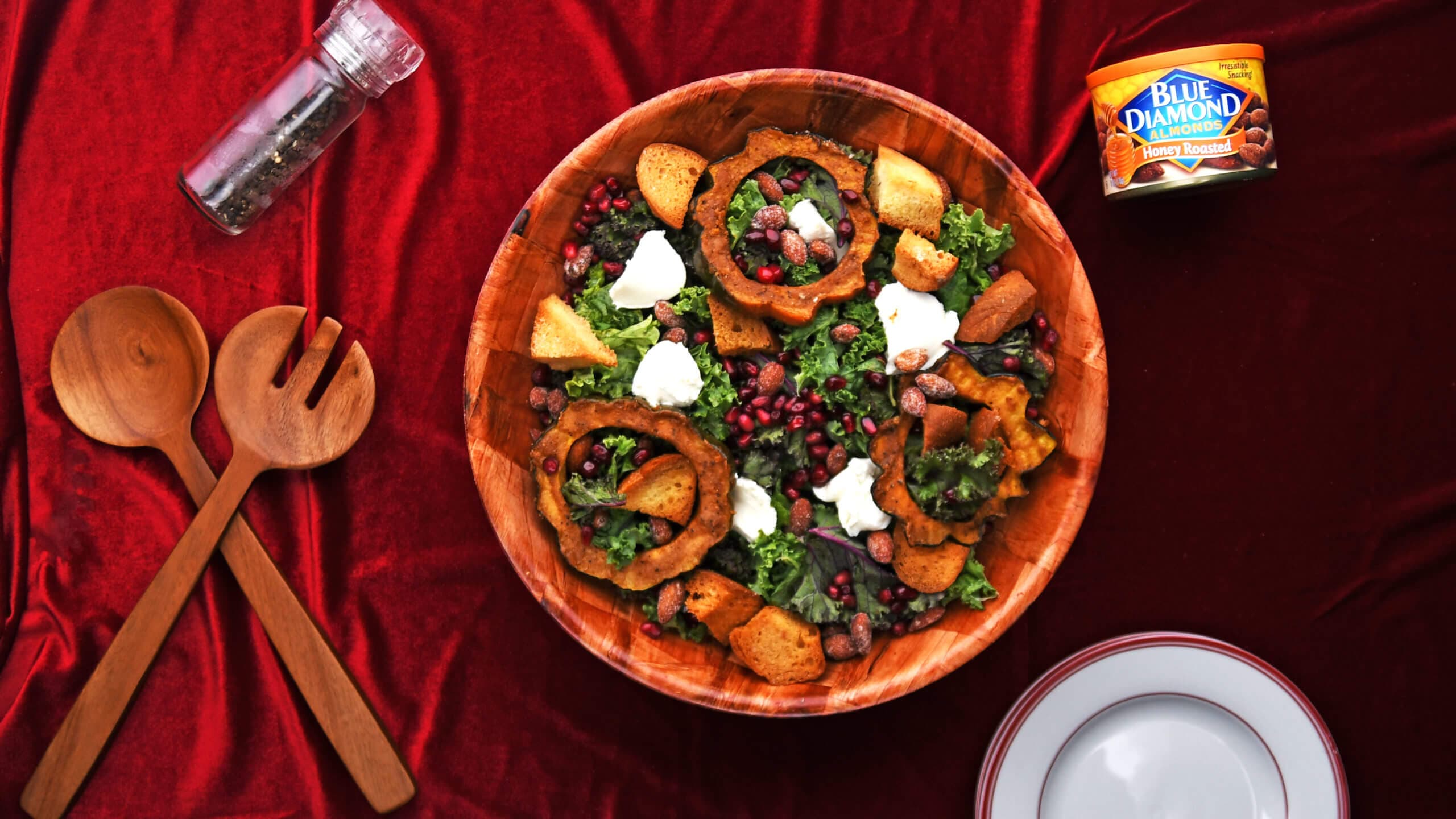 This Harvest Squash Salad is one of our favorite flavored almond recipes to prepare for any occasion. The sweet roasted acorn squash, tart pomegranates, crunchy honey roasted almonds, and tangy goat cheese combine perfectly. It's easy to customize as well; if you're looking to customize it to your dietary needs. This delicious salad can be served as an appetizer or main dish, and is sure to have everyone asking for seconds!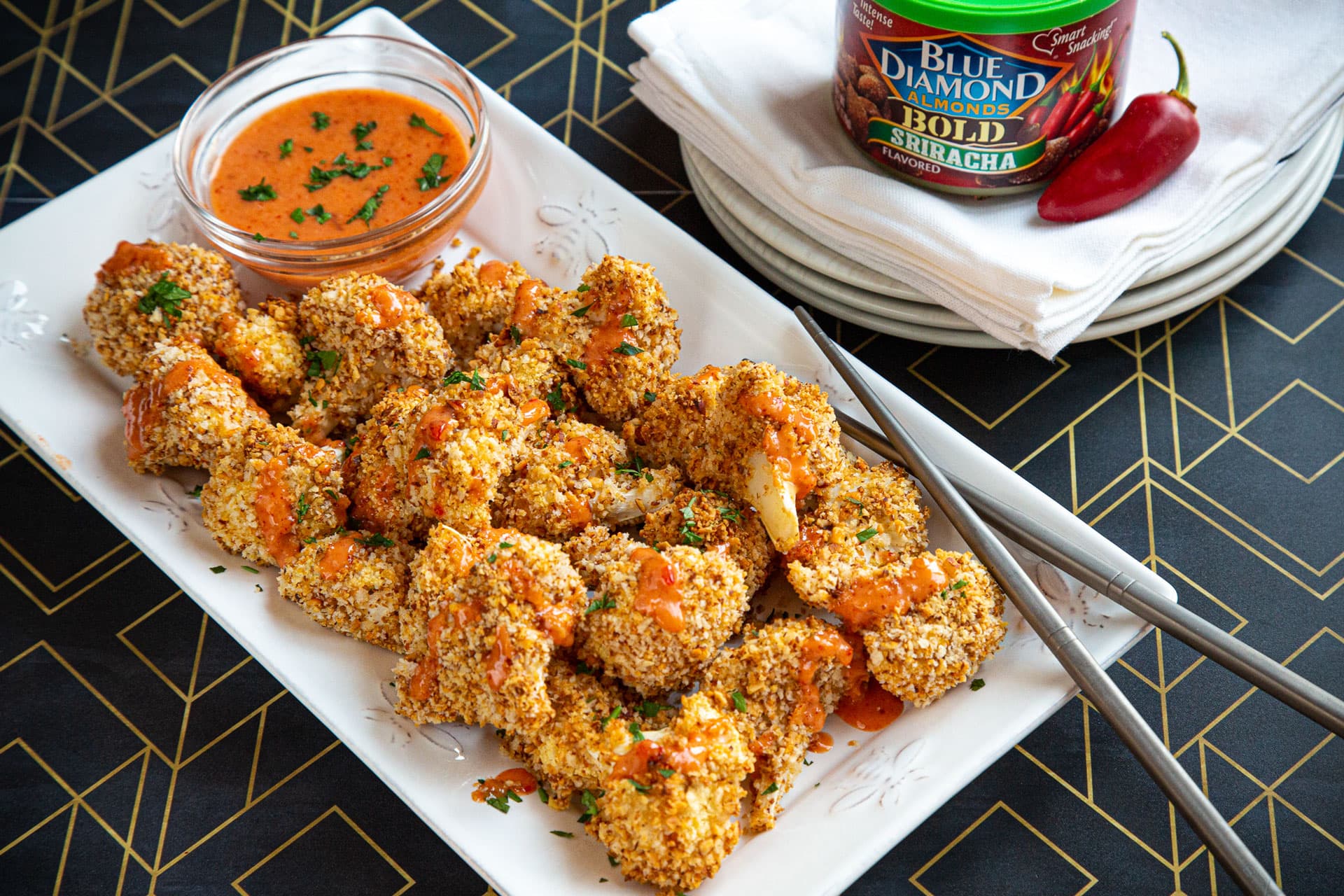 If you're looking to kick your meal plan up a notch, the Bold Sriracha Bang Bang Cauliflower is definitely worth giving a try! This fiery dish combines both Sriracha Flavored Almonds and Sweet Thai Chili Sauce to create an unmistakable flavor that packs a punch. The almonds also offer a subtle crunchiness that contrasts perfectly with the cauliflower. The many different flavors and textures come together for an unforgettable culinary experience. Requiring only a few ingredients, this recipe is simple enough for anybody to make at home – so don't be afraid to bold and heat up your kitchen with this one-of-a-kind dish.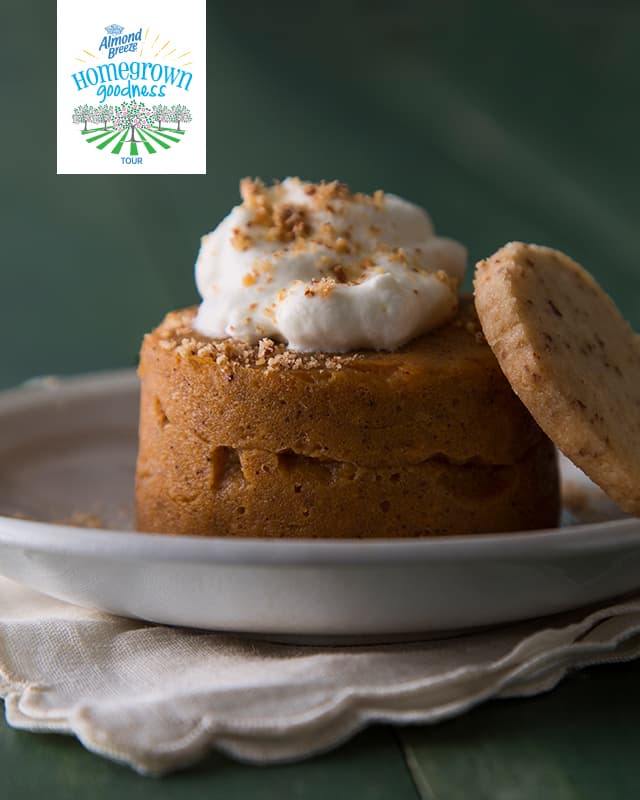 Looking for a sweet recipe with almonds? Look no further than Browned Butter Sweet Potato Pie & Almond Shortbread! This mouthwatering recipe combines the nuttiness of honey roasted almonds with the sweetness of sweet potatoes to create a dessert that is sure to please. The pie itself is made with a rich, browned butter filling that is both creamy and decadent. It is topped with a layer of buttery almond shortbread, which provides a delightful crunch and complements the flavors of the sweet potato filling perfectly. This is sure to impress your guests with a sophisticated and delicious dessert that features almonds as the star ingredient.
Snack almonds are a versatile ingredient that can add a delicious twist to a variety of recipes. From savory dishes like the Bold Sriracha Bang Bang Cauliflower to sweet treats like Browned Butter Sweet Potato Pie & Almond Shortbread, the right snack almonds can elevate the flavor and texture of many dishes. Whether you're a seasoned cook or a beginner in the kitchen, incorporating almonds into your recipes is an easy way to make any meal or snack extra special. Go ahead, try out a new recipe featuring Blue Diamond Almonds today!
Pro Tip: Use our handy Product Locator to find Snack Almonds at your local grocery store, or grab some from our online Nut & Gift Shop.