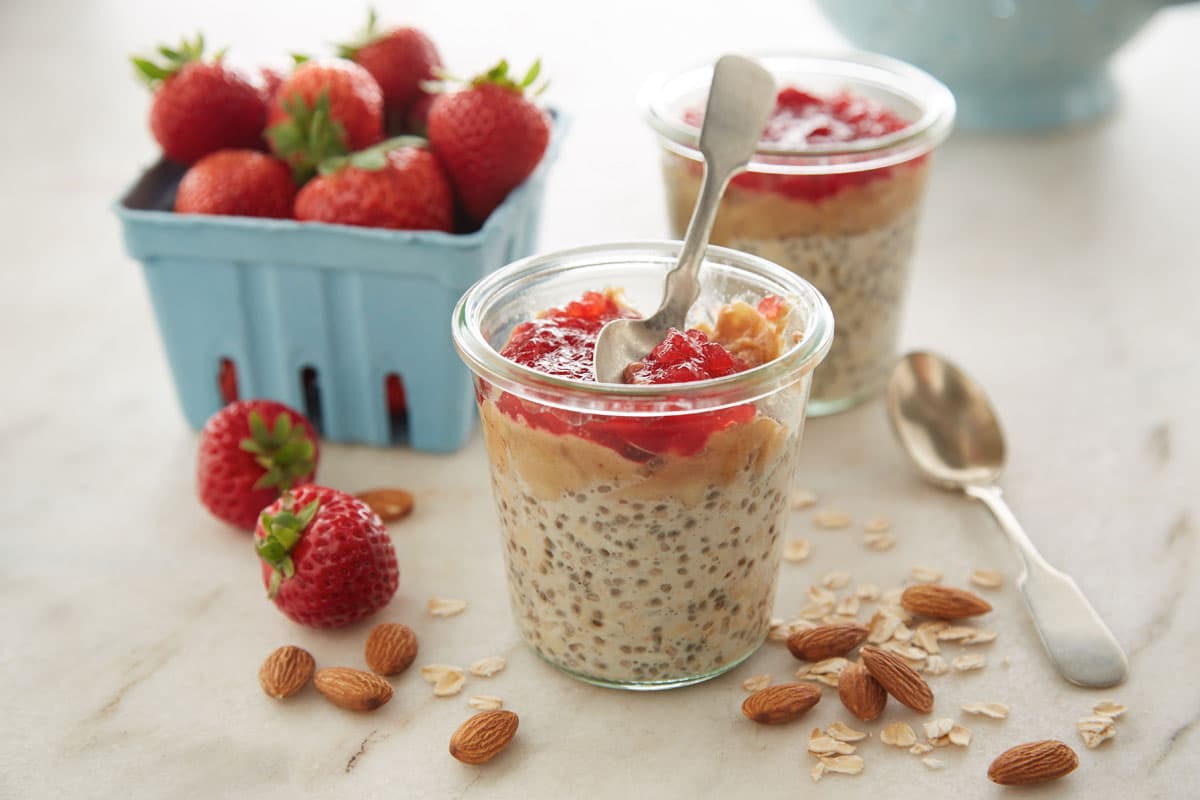 Easy Ways to Use Almond Milk
Here at Blue Diamond® we never get tired of coming up with new, great ways to use our delicious and nutritious line of Almond Breeze® almondmilk products. In fact, we have a whole recipe collection that you can sort by meal, holiday, or even dietary restriction, if you're looking for new ways to use the tastiest dairy alternative on the planet. Almond Breeze® almondmilk products are rich and creamy, have 50% more calcium than dairy milk (1 cup of 2% fat dairy milk contains 30% daily value calcium vs 1 cup of Almond Breeze almondmilk), and can be excellent sources of Vitamins D and E.
There are many quick and easy, simple almondmilk uses. This includes splashing it over your cereal or granola, adding it to your hot cereals, overnight oats and porridges, using it as a non dairy creamer for your coffee, putting it in your smoothies, replacing the cream in cream-based soups, replacing the dairy in your favorite creamy sauces and gravies, as a milk or cream replacement in baking, as a base for ice cream, and the list goes on!
With so many terrific ways to use almondmilk, and so many great reasons to include this in your diet, we'll never get tired of coming up with new ways to use it.
Ways to Use Almondmilk to Start the Day Right
Yes, as we mentioned above, you can simply pour one of our great-tasting Almond Breeze® almondmilk products on your cereal, or add it in your smoothie instead of yogurt or milk, or even stir a little into your coffee and call it a breakfast. But if you're looking to get a little more involved, there are many breakfast recipes that use almonds.
For starters, you can break out your whisk and whip up a coconut almond hollandaise for a breakfast benedict. You could crack a tin of biscuits (or make your grandma's recipe from scratch) and put together a red eye gravy to top them with, using Almond Breeze® Unsweetened Original almondmilk as its base. Or, for a slightly sweet breakfast treat, why not try your hand at making a batch of chocolate chip pancakes made with rich and creamy Almond Breeze® Unsweetened Vanilla almondmilk.
Ways to Use Almondmilk Throughout the Day
Almond Breeze® really shines at breakfast, but incorporating almondmilk into your diet throughout the entire day is easy. Lighten up your lunch and dinner by swapping almond milk for dairy in soups like Summery Chipotle Corn Chowder, in sides like Mashed Cauliflower Colcannon and creamed spinach, and even in main dishes like Creamy Alfredo Four Ways.
A Little Almondmilk at Dessert Time, Too
Another obvious place to get a little more almondmilk into your life is when it's time for something sweet. With a home ice cream maker or a popsicle mold, you can make delicious, better-for-you, non-dairy treats with a little Almond Breeze® almondmilk. Try your hand at Georgia Peach Ice Cream with Cobbler Crumble, Breeze Ice Pops with Fresh Berries, or switch out the dairy in one of your favorite baking recipes for Almond Breeze almondmilk.
Whatever you choose to use as your path to almond milk nirvana is sure to turn out great, thanks to the addition of our creamy and delicious almondmilk flavors!