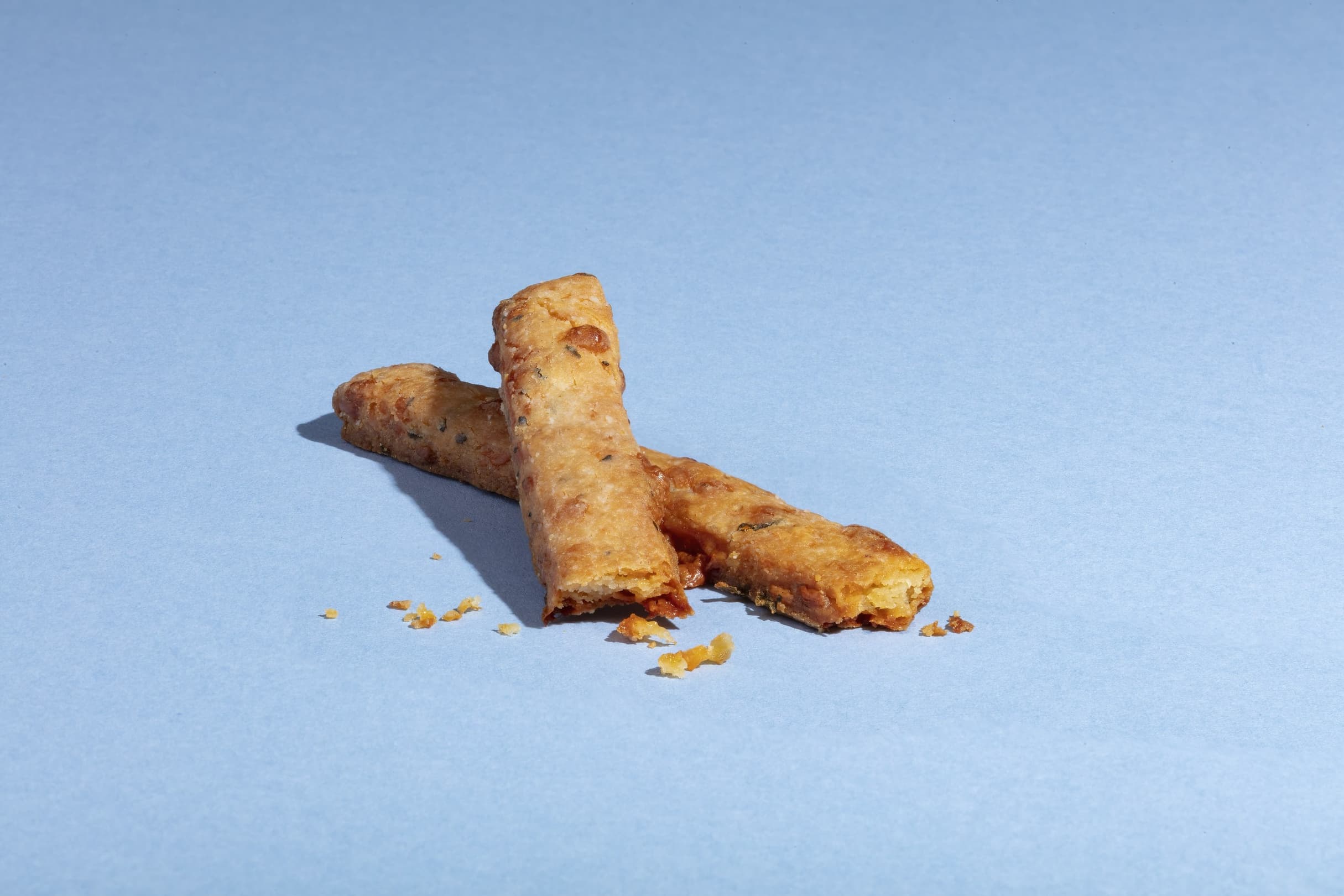 Pepper and Chive Cheese Straws
Nutrition Information
Total Fat
16g
Total Carbohydrates
2g
Cholesterol
30mg
Sodium
250g
Potassium
90mg
Dietary Fiber
<1g
Sugars
0g
Protein
7g
Ingredients
1/2 cup gluten free all-purpose baking flour

2 tablespoons thinly sliced fresh chives

1/2 teaspoon coarse grind pepper

1/4 slightly heaping teaspoon salt

2 tablespoons cold butter, cut into 1/4-inch cubes

6 oz. (1 1/2 cups packed) coarsely shredded sharp or extra sharp Cheddar cheese*

3 to 4 tablespoons ice water
*May substitute a naturally smoked Gouda, Gruyere or Jarlsberg cheese, or use a mixture. It's a great way to use up small bits of cheese you might have in your fridge.
Directions
Stir together flours, chives, salt and pepper in a large bowl then stir in cheese. Add butter and mix with a fork or pastry blender until butter is in slightly smaller pieces.

Stir in just enough ice water to make dough stick together when pressed between your fingers. Gather into a ball and flatten slightly to form a disc; cover with plastic wrap and refrigerate for at least 30 minutes.

Place on a board coated lightly with almond flour and flatten to 1/2-inch thick. Cut into 4 pieces then stack and press together to compress. Shape into a disc again, cover and refrigerator for at least 30 minutes more.

Repeat flattening, cutting and chilling twice more. Preheat oven to 400°F and line a large baking sheet with parchment paper.

Roll dough 1/4-inch thick on a board lightly coated with both flours. Cut into thin strips, long or short – whatever you prefer. Place on baking sheet and bake for 12 to 14 minutes or until lightly golden brown. Let cool on baking sheet.
Made with these products: