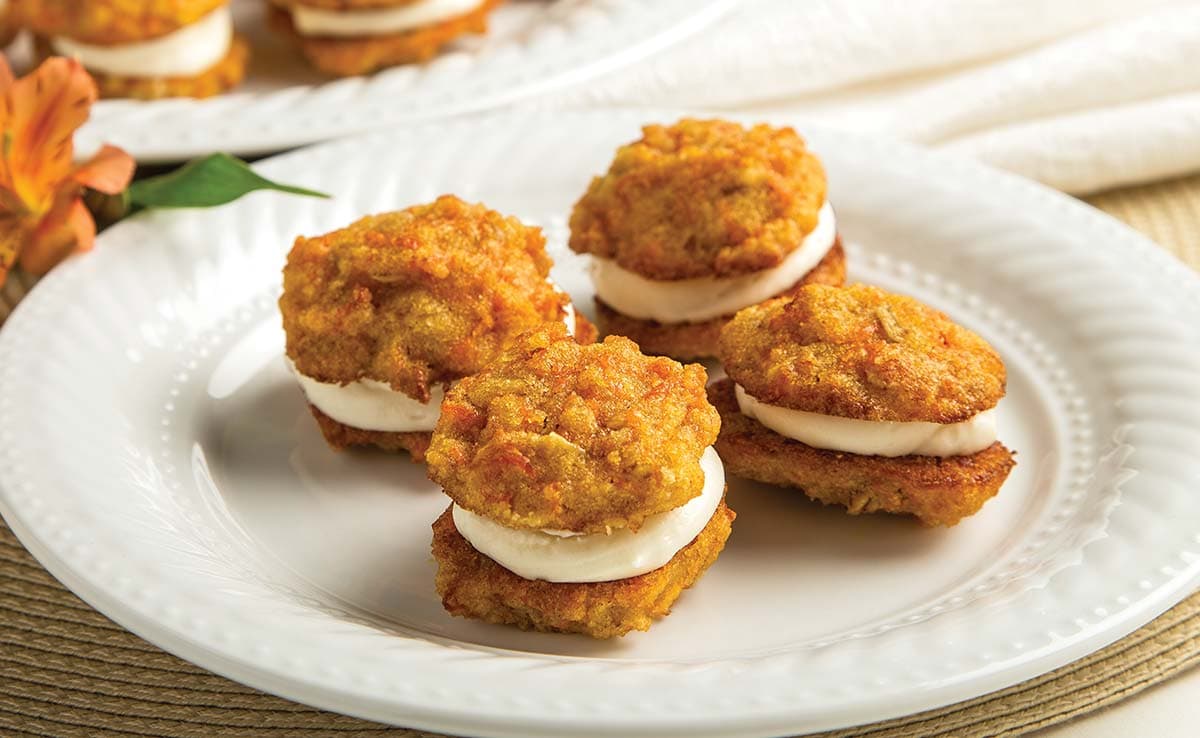 Carrot Cake Cookies w/Cream Cheese Filling
Nutrition Information
Total Fat
13g
Total Carbohydrates
19g
Cholesterol
30mg
Sodium
130mg
Dietary Fiber
1g
Sugars
16g
Protein
3g
Ingredients
Cookies
½ cup butter, softened

⅓ cup packed brown sugar

⅓ cup sugar

1 egg + 1 egg white

½ teaspoon pineapple extract (optional)

½ cup rolled oats

1 teaspoon baking soda

½ teaspoon salt

¼ teaspoon ground nutmeg

1½ cups coarsely shredded carrots
Cream Cheese Filling:
2 cups powdered sugar

1 teaspoon vanilla extract

4 ounces ⅓ less fat cream cheese, softened

¼ cup butter, softened
Directions
Line two baking sheets with parchment paper.

Beat together butter, sugars, eggs and extract until creamy.

Stir in almond flour, oats, baking soda, salt and nutmeg until well mixed, then stir in carrots.

Drop teaspoons of dough two inches apart on prepared baking sheets.

Bake for 12 minutes or until lightly browned. Let cool completely.

Beat all filling ingredients together in a large bowl until light and fluffy. Spread equal amounts of filling over half the cookies; top with remaining cookies.

Cover and refrigerate until ready to serve.

These cookies are very delicate. Keep refrigerated to keep them firm.
Made with these products: