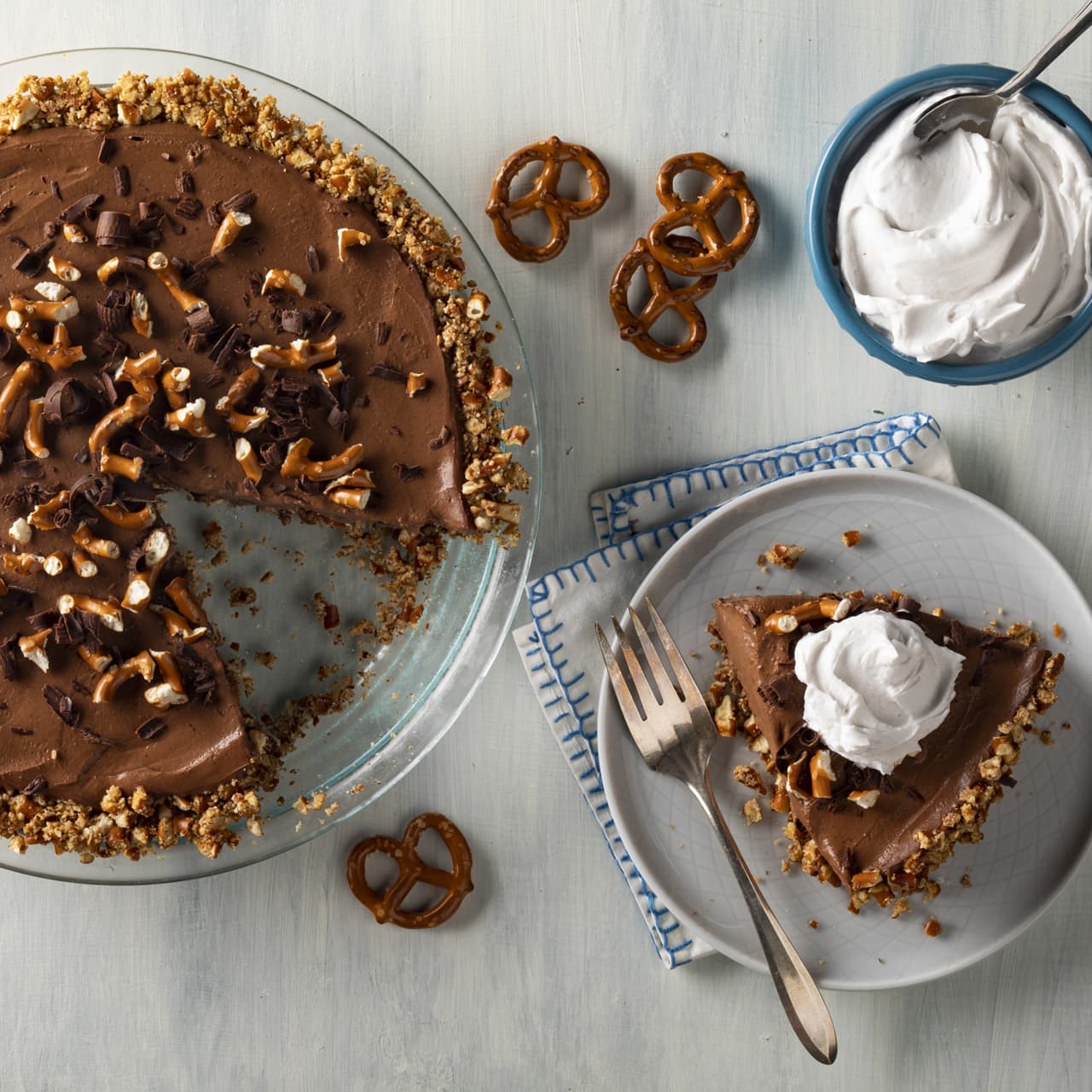 Vegan Chocolate Mousse Pie with Pretzel Crust
Nutrition Information
Total Fat
21g
Total Carbohydrates
29g
Cholesterol
22mg
Sodium
85mg
Dietary Fiber
4g
Sugars
12g
Protein
7g
Ingredients
3 1/2 cups whole mini pretzels or thin pretzel sticks

1 stick unsalted butter or vegan butter

3 tablespoons granulated sugar

1 (12-ounce) package soft or extra soft or silken tofu

1 cup frozen banana slices (about 5 ounces)

1/2 cup almond butter

1/4 cup unsweetened cocoa powder

Whipped coconut cream

chopped chocolate

extra crushed pretzel
Directions
Make the crust: Place a rack in the center of your oven and preheat the oven to 350 degrees F. In the bowl of a food processor fitted with a steel blade, pulse the pretzels until they form mostly fine crumbs with a few more textured pieces remaining throughout. If you do not have or prefer not to use a food processor, place the pretzels in a ziptop bag and crush them with a rolling pin (you may need to double up the bag if it gets any small holes).

Melt the butter in a large, heatproof bowl in the microwave. Add pretzel crumbs (you should have about 1 1/2 cups; make a few extra or subtract as needed) to the bowl with the melted butter. Add the sugar, and then stir until evenly moist and combined. The crumbs should hold together easily when pressed. If they do not, add 1 to 2 tablespoons additional melted butter. Press the crumbs into the bottom and up the sizes of a 9-inch pie dish. Bake for 8 minutes, until golden and fragrant. Set aside to cool slightly, and then place in the freezer or refrigerator to cool completely. Do not proceed with the recipe until your crust and pie dish are at or below room temperature.

Make the filling: While the crust cools, place the tofu, frozen banana, almond butter, chocolate almondmilk, and cocoa powder in a blender. Blend until completely smooth. In a microwave-safe bowl or in a heatproof bowl set over a pan of simmering water, melt the chocolate, and then add it to the blender and blend again until very smooth, stopping to scrape down the blender as needed.

Pour the filling into the cooled crust and smooth the top. Refrigerate until set, at least 6 hours or overnight. When ready to serve, top with whipped coconut cream, chocolate, and pretzels as desired. Slice and enjoy!
Made with these products: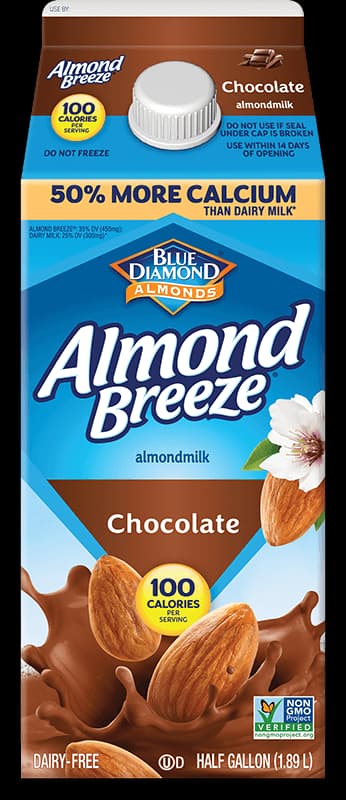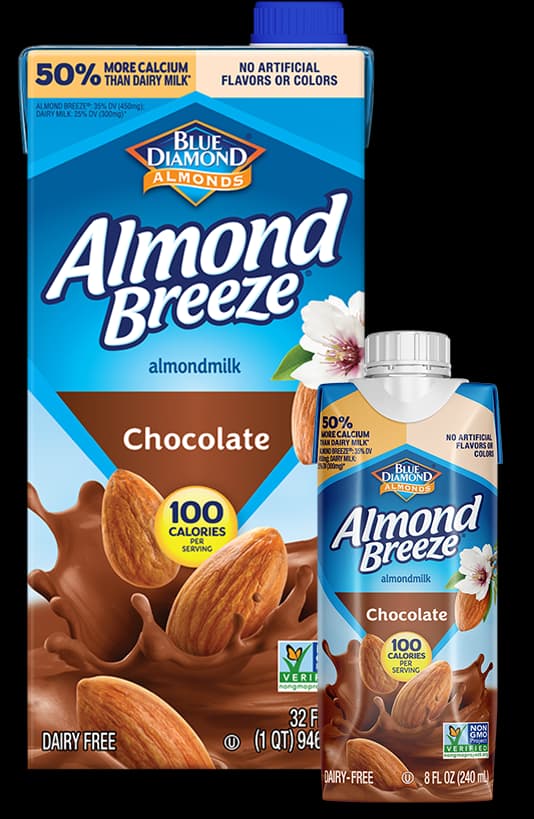 Shelf Stable Chocolate Almondmilk
Notes:
Pie can be tightly wrapped and frozen for up to 1 month. Let thaw overnight in the refrigerator.
Store leftover pie in the refrigerator for 2 to 3 days.
If you'd like to make just the filling and eat it like a chocolate pudding or mousse, store it in an airtight container in the refrigerator for 3 to 4 days. The banana flavor will become slightly more pronounced, but it will still be delicious!
More crust options: If you prefer not to do a pretzel crust, you can swap a graham cracker crust, regular pie crust, or simply enjoy the filling on its own as a delicious chocolate mousse.