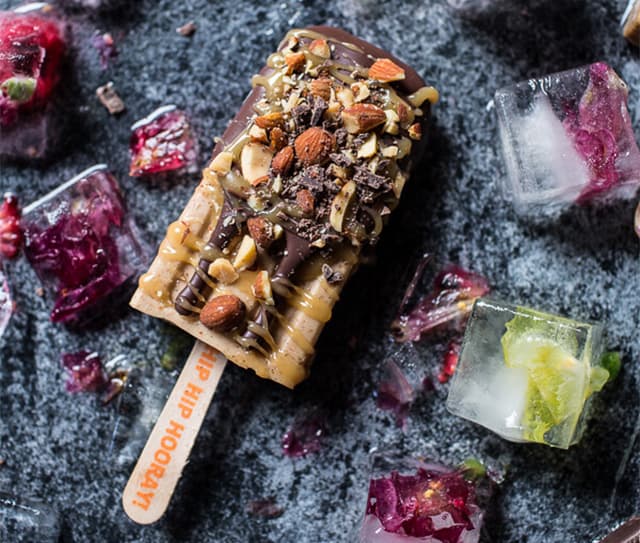 Frozen Chocolate Banana Pops with Almonds & Malted Coconut Honey
Nutrition Information
Total Fat
43.4 g
Total Carbohydrates
54.2 g
Cholesterol
6.8 mg
Sodium
107.6 mg
Potassium
646.5 mg
Dietary Fiber
8.0 g
Sugars
38.7 g
Protein
9.0 g
Ingredients
2 very ripe bananas (can be frozen bananas too)

1 cup creamy almond butter

2-­4 tablespoons honey; depending on how sweet you would like these (use maple if vegan)

1 vanilla bean; seeds removed OR 1 tablespoon vanilla extract

1/3 cup coconut oil

roasted chopped almonds
Directions
In a blender or food processor, combine the bananas, almond butter, Almond Breeze, honey and vanilla. Blend until completely smooth and creamy. Make sure the almond butter is completely mixed, it can stick to the sides and bottom of the food processor sometimes.

Pour the mixture among 8 popsicle molds or paper dixie cups. Place popsicle sticks in the center of each mold. Place the molds in the freezer and freeze until firm, about 4 hours.

About 30 minutes prior to removing the pops from the freezer, make the malted honey (if making). Place the Almond Breeze, honey (or sugar), coconut oil and malted milk powder in a large sauce pan over medium heat. Bring to a boil, whisking frequently and cook for 8-­10 minutes or until thickened. Remove from the heat and allow to cool 15 minutes before dipping the pops.

To remove the popsicles run the mold under hot water for 10 seconds and then pull the popsicles out of the mold.

Working with one pop at a time, dip just one side of the pop in the honey sauce and allow the excess to drip off. Place the pop, dipped side up (so no honey sauce really touches the wax paper) on a wax lined baking sheet and put in the freezer. If you dip the whole in the sauce, it is just a little bit harder to get the pops off the wax paper without peeling away the honey sauce. Repeat with the remaining pops and freeze for 20 minutes.

Meanwhile, make the chocolate shell. Combine the chopped chocolate and coconut oil in a medium sauce pan over medium heat. Stir frequently until chocolate is almost melted. Remove from heat and stir until completely melted and smooth. Allow to cool 15-20 minutes before dipping the pops.

Remove the pops from the freezer one at a time and dip in the chocolate shell. Quickly sprinkle with chopped almonds (consider our low salt snack almonds for a low sodium option), coconut and a little salt.
Made with these products: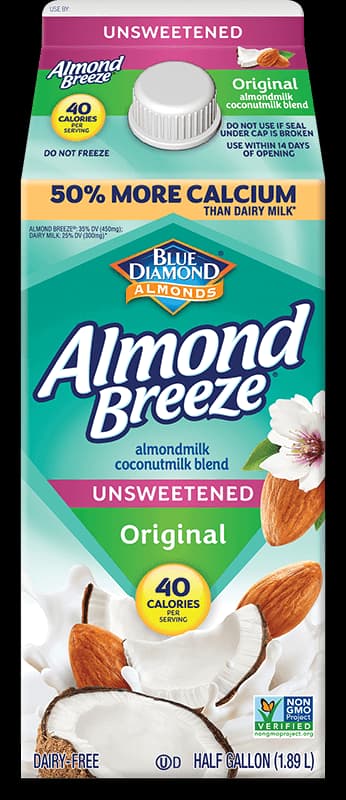 Unsweetened Original Almondmilk Coconutmilk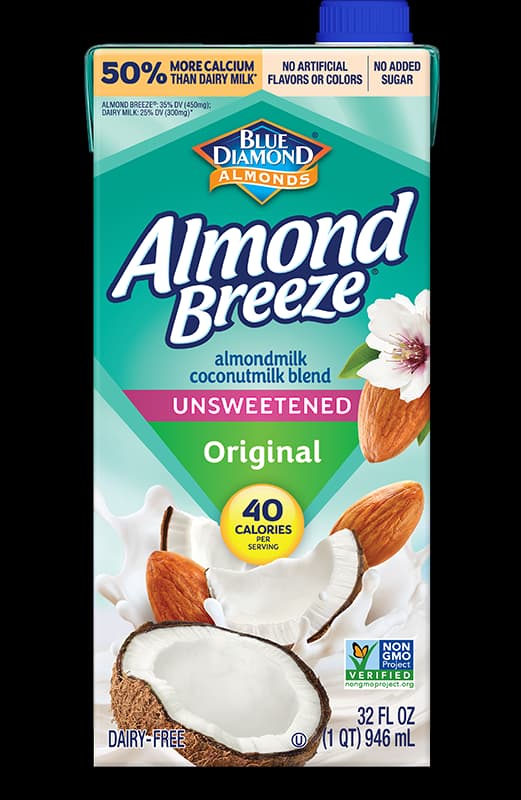 Shelf Stable Unsweetened Original Almondmilk Coconutmilk
Courtesy of: Half Baked Harvest