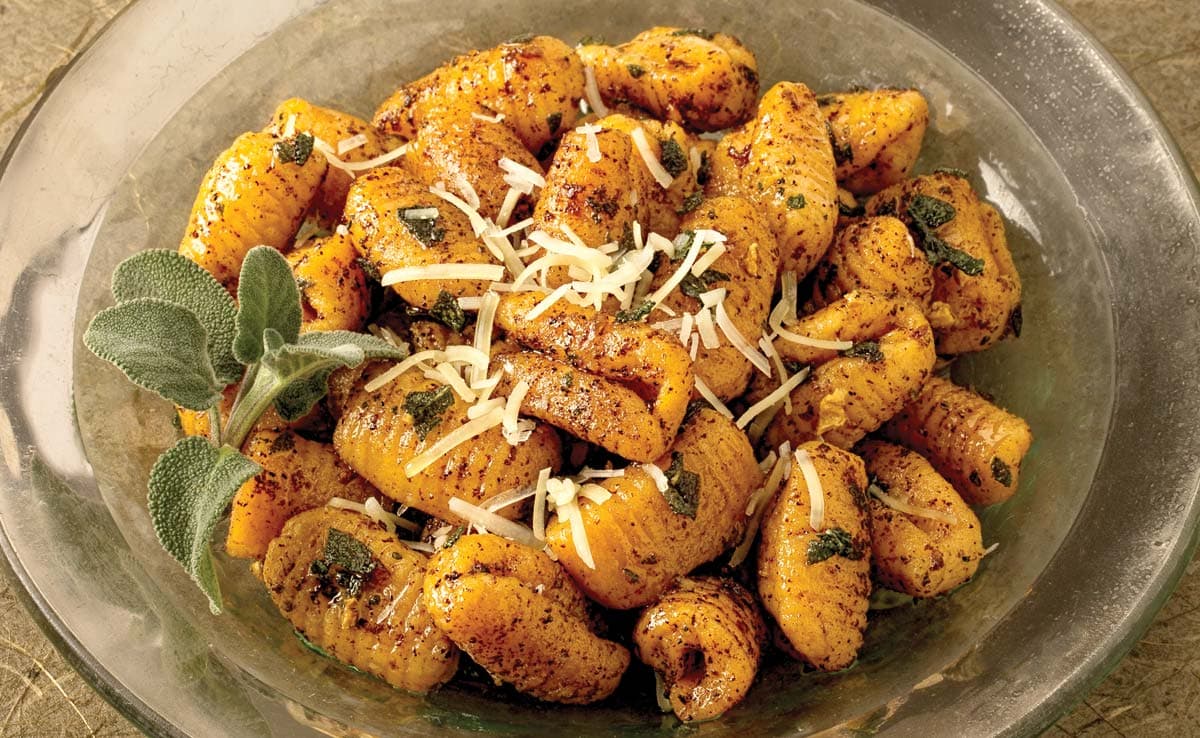 Sweet Potato Gnocchi in Brown Sage Sauce
Nutrition Information
Total Fat
15g
Total Carbohydrates
34g
Cholesterol
0mg
Sodium
610mg
Dietary Fiber
5g
Sugars
6g
Protein
10g
Ingredients
Pasta:
1 medium sweet potato, cooked through and peeled

1 tablespoon brown sugar

1 teaspoon salt

½ teaspoon pumpkin pie spice

¾ cup Blue Diamond gluten-free flour blend (see recipe here)

Flour for sprinkling
Sauce:
½ cup butter

6 tablespoons fresh sage, chopped

3 cloves garlic, chopped

Salt and pepper

1 tablespoon olive oil

¼ cup grated Parmesan cheese for topping

Sage for garnish
Directions
Place cooled, peeled sweet potatoes in mixer and mix at medium speed until mashed. Add in brown sugar, salt and pumpkin pie spice and mix for 30 seconds.

In a food processor, mix almond flour, gluten-free flour blend. Pulse for 30 seconds until flours are well combined.

While mixer is set on low speed, slowly add flour until a soft dough forms.

Remove dough ball from mixer and place on a well-floured surface.

Divide dough ball into six equal parts and roll each into a long rope between your palms and a floured work surface. Sprinkle with flour as necessary if dough is sticky.

Cut each rope into 1-inch pieces and roll with a fork to create grooves. Transfer to a parchment-lined baking sheet.

Bring a large pot of water to boil and season with salt. Boil gnocchi in batches for about 6 minutes, or until the dumplings float. Using a slotted spoon, remove gnocchi from water and let cool on a clean baking sheet. Repeat until all gnocchi are cooked.

Place butter in an oven-safe skillet and place in oven. Remove when butter is melted and solids have browned, about 7 minutes, occasionally swirling. Remove from oven and place on stovetop over medium-low heat.

Add chopped sage and garlic and season with salt and pepper. Cook until garlic is golden. Add gnocchi and sauté until gnocchi has a light brown crust, about 6 minutes

Divide gnocchi into serving bowls. Drizzle with olive oil, sprinkle with Parmesan and garnish with sage.
Made with these products: