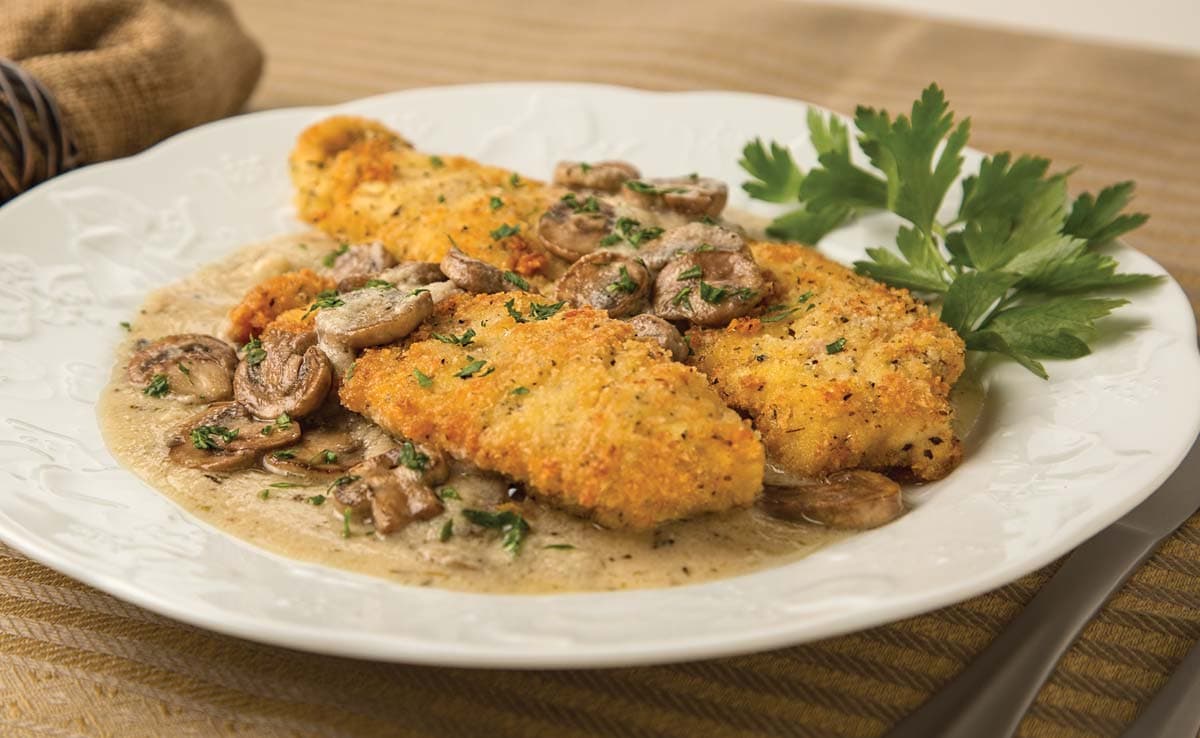 Crispy Italian Chicken Breasts w/ Marsala Sauce
Nutrition Information
Total Fat
46g
Total Carbohydrates
29g
Cholesterol
180mg
Sodium
1710mg
Dietary Fiber
6g
Sugars
7g
Protein
33g
Ingredients
1 pound boneless, skinless chicken breasts

½ cup regular or gluten-free panko bread crumbs

⅓ cup grated Parmesan cheese

2 teaspoons Italian seasoning

1 teaspoon garlic salt

2 eggs, beaten

Vegetable oil for frying
Directions
Fillet each chicken breast into 2-inch pieces. Place in a large plastic bag and pound with a meat mallet until ½-inch thick.

Place ⅓ cup almond flour in a shallow dish.

Mix remaining almond flour, bread crumbs, cheese, herbs and garlic salt in another shallow dish.

Beat eggs in a third shallow dish.

Dip chicken into flour, then eggs, then seasoned flour mixture, pressing to coat chicken well. Let stand for 10 minutes.

To prepare sauce, melt butter in a small saucepan and brown mushrooms.

Add almond flour and cook for 1 minute.

Slowly whisk in stock, marsala, herbs and garlic salt and bring to a boil. Reduce heat slightly and cook for about 10 minutes to thicken, stirring frequently; keep warm.

Heat ½-inch vegetable oil in a large skillet.

Cook chicken for about 2 minutes on each side or until golden brown and cooked through.

Serve immediately with sauce.
Made with these products: