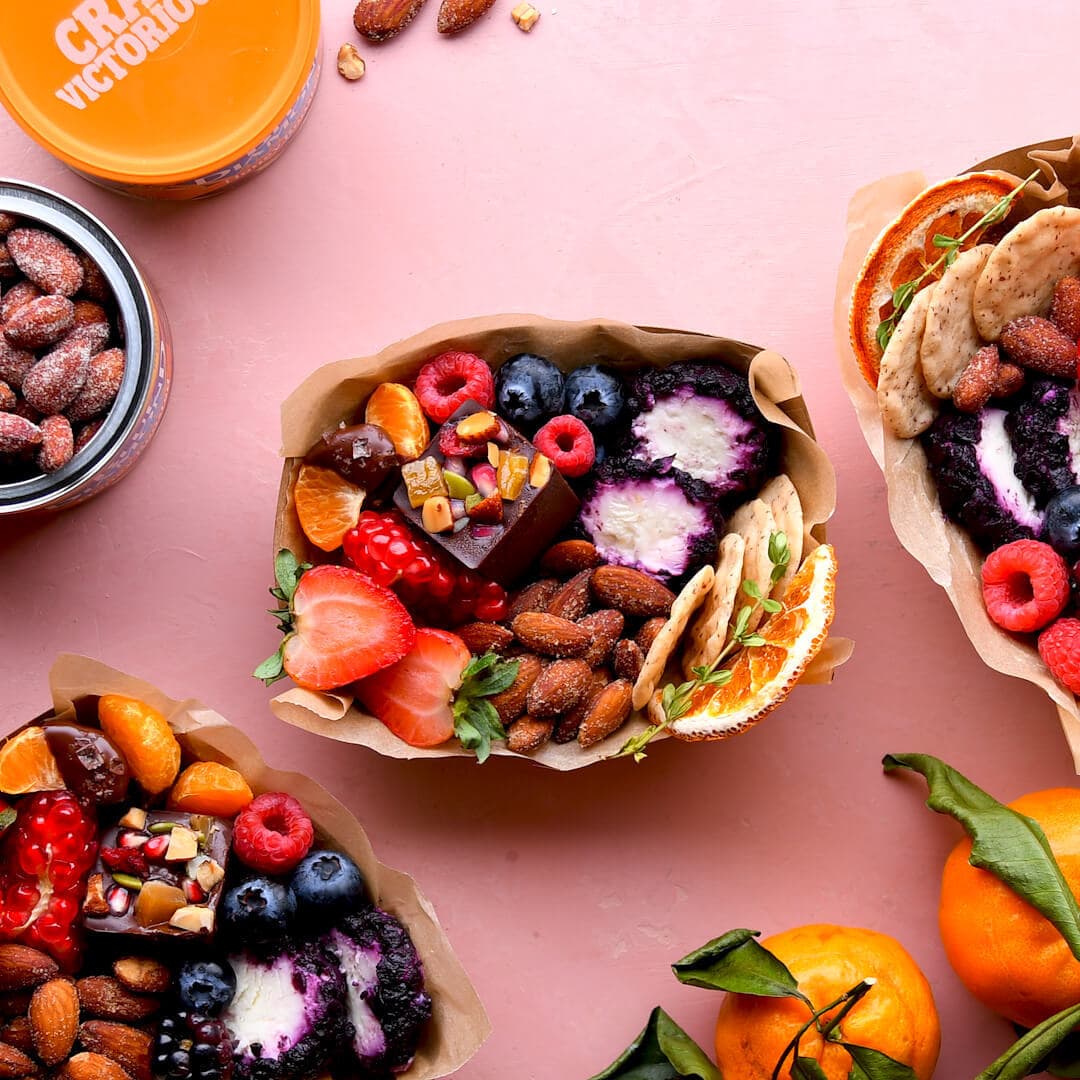 Watch Video
Sweet & Salty Snack Box
Nutrition Information
Calories
560
Total Fat
25.1 g
Total Carbohydrates
82.1 g
Cholesterol
28.0 mg
Sodium
231.4 mg
Potassium
310.0 mg
Dietary Fiber
9.1 g
Sugars
52.2 g
Protein
9.1 g
Ingredients
For Sweet & Salty Chocolates
Dried orange, for garnish

Thyme, for garnish
For Chocolate Dipped Clementines
Directions
To make the sweet & salty chocolates, melt dark chocolate until smooth and transfer to a ziplock bag. Cut tip, and pipe chocolate into a silicone ice cube tray mold.

Into the chocolate, drop a few Blue Diamond Smokehouse Almonds and trap tray to submerge. Garnish tops of the chocolates with pomegranate seeds, dried fruit, pumpkin seeds, and chopped Blue Diamond Honey Roasted Almonds. Place tray into the fridge for one hour, to allow chocolate to set.

While chocolate sets, separate a clementine into segments and dry with a paper towel if wet. Dip each segment into melted dark chocolate and set onto a parchment lined baking sheet to dry. Sprinkle with sea salt if desired and allow to set.

Place one sweet & salty chocolate and a few chocolate dipped clementines into a small, parchment lined to-go tray. Then, fill tray with remaining ingredients. Enjoy on the go, or make a few for a socially distant picnic with friends!
Made with these products: