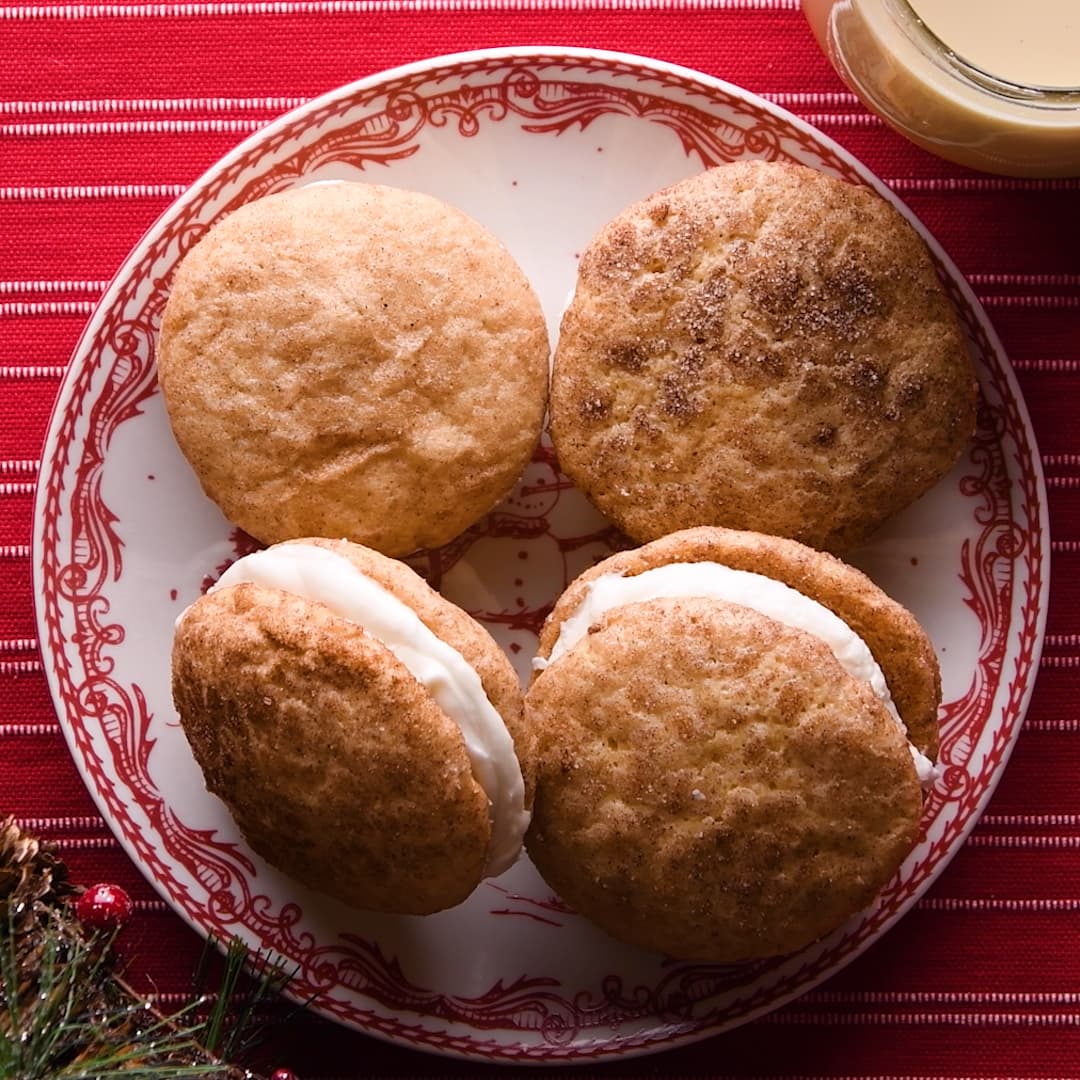 Nog Snickerdoodle Whoopie Pies
Nutrition Information
No nutritional info available at this time.
Ingredients
Cookies:
3/4 cup butter, softened

1 1/4 cup granulated sugar, divided

1/2 cup brown sugar, packed

2 large eggs

1 1/2 teaspoons vanilla extract

3 cups all-purpose flour

1/2 teaspoon salt

1/2 teaspoon baking soda

3/4 teaspoon ground nutmeg

2 teaspoons cream of tartar

2 teaspoons ground cinnamon
Filling:
1/2 cup softened butter

1 ounce cream cheese, softened

1 teaspoon vanilla extract

Pinch of salt

3 cups powdered sugar
Directions
Preheat oven to 350 degrees and lightly grease a large baking sheet.

In a large bowl cream together butter, 1 cup sugar, and brown sugar until light and fluffy (2-3 minutes on high speed).

Add eggnog, eggs, and vanilla and mix until smooth. In a medium bowl whisk together flour, salt, baking soda, nutmeg, and cream of tartar.

Add dry ingredients to wet ingredients and mix until combined.

In a small bowl whisk together remaining 1/4 cup sugar and cinnamon. Roll cookie dough into 1-inch balls, then roll in the cinnamon-sugar mixture and place 1-inches apart on prepared baking sheet.

Bake for 12-15 minutes until very lightly golden brown. Allow to cool completely on wire rack. In a large bowl cream together butter, cream cheese, and vanilla until very light and fluffy, about 2-3 minutes on high speed.

Add salt, and gradually add powdered sugar until completely incorporated. Add 1/4 cup eggnog and mix on high speed until light and creamy, about 3 minutes. Add more eggnog as needed to reach a smooth, spreadable consistency (but not runny).

Flip half of the cookies up-side down, spread with filling, then top with a second cookie right-side up. Serve immediately or store in an airtight container at room temperature up to 3 days.
Made with these products: