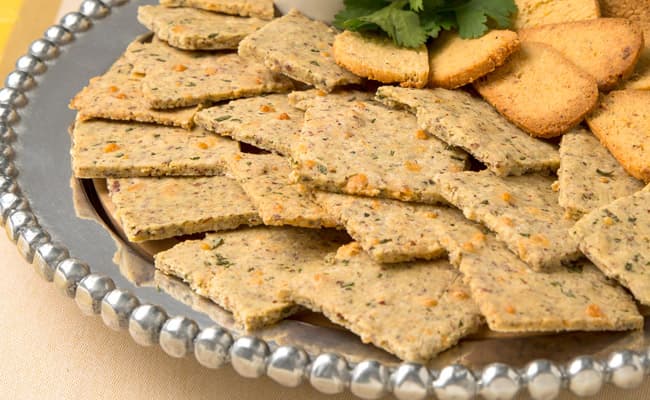 Garlic Parmesan Crackers
Nutrition Information
Total Fat
5g
Total Carbohydrates
2g
Cholesterol
45mg
Sodium
160mg
Dietary Fiber
3g
Sugars
12g
Protein
7g
Ingredients
2 eggs

2 tablespoons olive oil

½ cup Parmesan cheese

2 tablespoons garlic powder

2 teaspoons salt

1 teaspoon black pepper

2 tablespoons Italian seasoning

1 tablespoon chopped rosemary
Directions
In a large bowl, mix all ingredients until thoroughly combined.

Place dough on a sheet of parchment paper and cover with plastic wrap. Roll out dough into a rectangular sheet about ⅛-inch thick. Pull off plastic and transfer parchment onto a baking sheet.

Cut dough into 2-inch squares and bake for 20 minutes or until lightly golden. Let cool completely and gently separate crackers.
Made with these products: