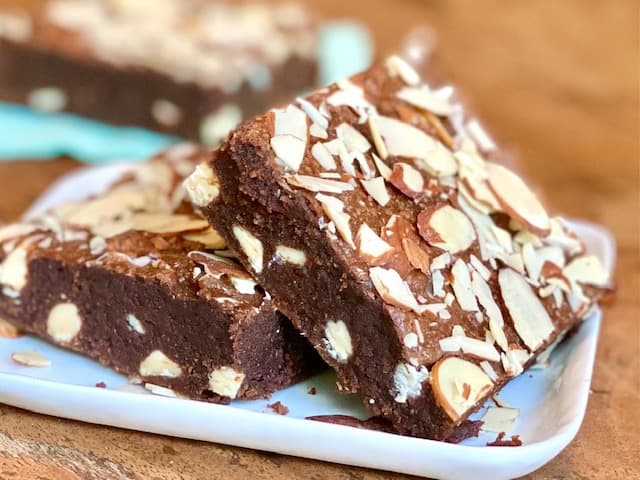 Double Chocolate & Sliced Almond Brownies
Nutrition Information
Calories
330
Total Fat
24g
Total Carbohydrates
27g
Cholesterol
60mg
Sodium
80mg
Potassium
210mg
Dietary Fiber
2g
Sugars
24g
Protein
6g
Ingredients
1/2 cup butter

4 oz. semi-sweet chocolate

1/4 cup packed brown sugar

1/4 cup sugar

1 1/2 teaspoons vanilla extract

2 eggs

2/3 cup white chocolate chips

1/2 cup sliced almonds
Directions
Preheat oven to 350°F and lightly butter an 8-inch baking pan.

Melt butter and chocolate in a medium saucepan over very low heat.

Stir in sugars and vanilla; set aside to cool. Add eggs and beat well to incorporate.

Stir in almond flour until no lumps remain then stir in chocolate chips.

Spread evenly in prepared pan and sprinkle with almonds; bake for 30 to 35 minutes or until a toothpick inserted into the center comes out clean. Let cool completely before cutting into squares. Makes 12 brownies.

Store in a container with a loose fitting lid.
Made with these products: