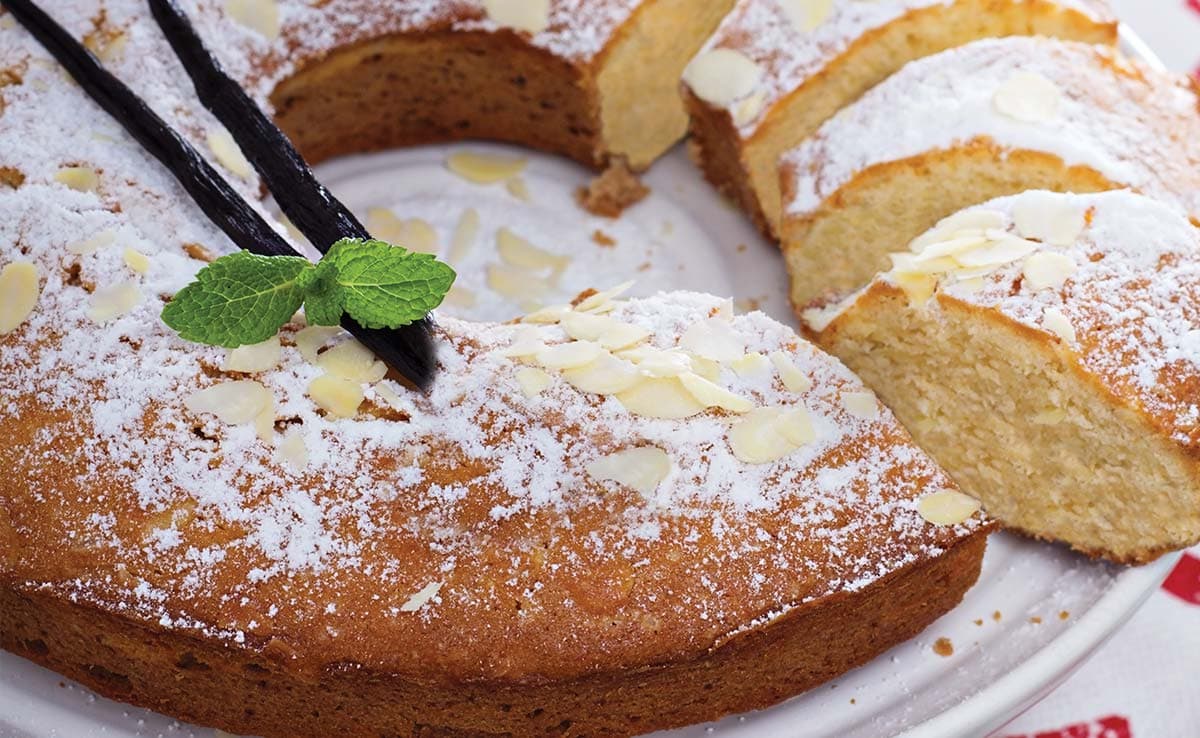 Almond Flour Cake
Nutrition Information
Total Fat
9g
Total Carbohydrates
13g
Cholesterol
60mg
Sodium
115mg
Dietary Fiber
2g
Sugars
11g
Protein
5g
Ingredients
Butter or coconut oil to prepare pan

½ cup + 2 tablespoons sugar, divided

4 large eggs, separated

1 teaspoon vanilla extract

1 tablespoon coconut flour

1 teaspoon baking powder

¼ teaspoon salt

Powdered sugar for sprinkling

Blue Diamond Blanched Sliced Almonds for topping
Directions
Prepare an 9-inch round pan with butter (dairy-free if desired) or coconut oil. Sprinkle 2 tablespoons of the sugar into the bottom of the pan.

In a large mixing bowl, beat together the egg yolks, ¼ cup of the sugar and the vanilla until smooth.

Using an electric mixer or stand mixer, whip the egg whites until they form soft peaks. Slowly beat in the remaining ¼ cup sugar. Set aside.

Whisk together the dry ingredients—flours, baking powder and salt—and add to the egg yolks. Stir together to form a thick dough.

Fold in the egg whites, ½ cup at a time, incorporating them fully between each addition. The final addition should result in a smooth, fluffy batter.

Pour the cake batter into the prepared pan. Bake the cake on the center rack for 30 to 35 minutes, until it is golden brown and a toothpick inserted into the center comes out clean.

Remove the cake from the oven and allow it to cool in the pan for 5 minutes. Run a knife around the edge of the pan to loosen the sides, then turn the cake out onto a serving plate.

Dust with powdered sugar and top with Blue Diamond Blanched Sliced Almonds.
Made with these products: