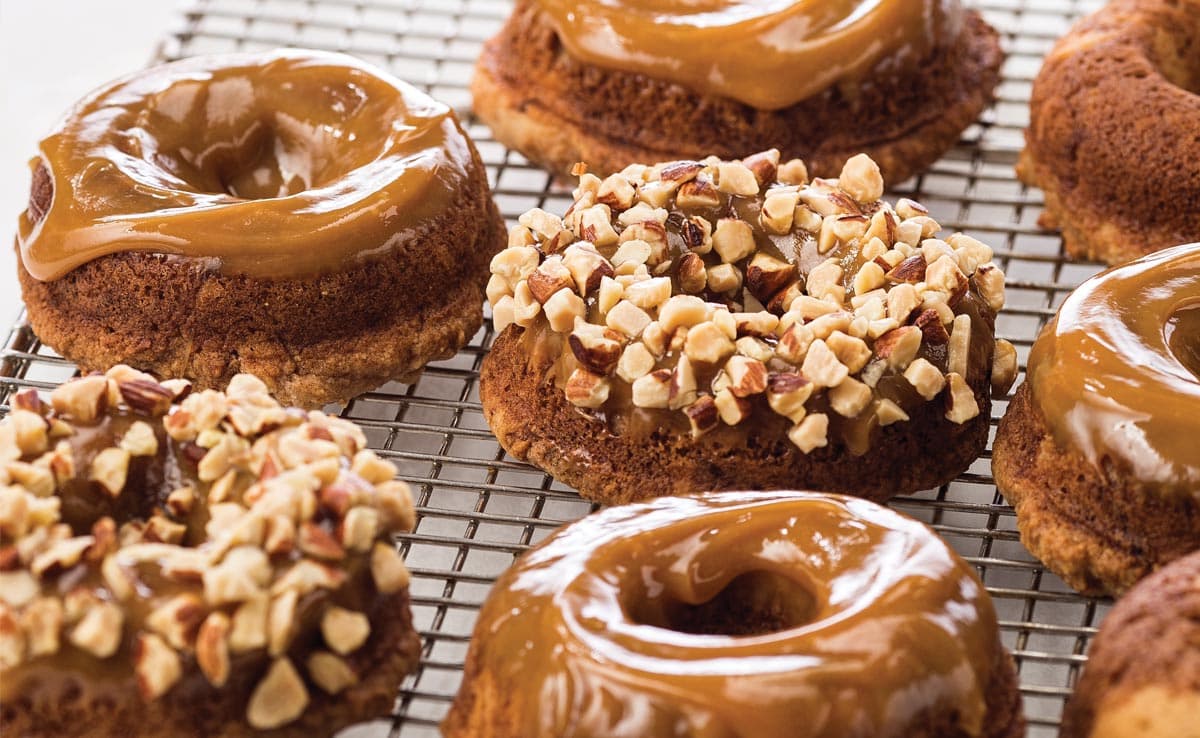 Baked Apple Donuts
Nutrition Information
Total Fat
34g
Total Carbohydrates
49g
Cholesterol
35mg
Sodium
330mg
Dietary Fiber
5g
Sugars
33g
Protein
10g
Ingredients
Donuts:
1 cup apple sauce

⅓ cup butter

1 egg white

½ cup sugar

1 teaspoon cinnamon

1 tablespoon vanilla

¼ teaspoon salt

1 teaspoon baking soda
Caramel Glaze:
¼ cup almond butter

¼ cup honey

1 teaspoon vanilla

⅛ cup butter
Directions
Place apple sauce, butter, egg white, sugar, cinnamon, vanilla and salt into a mixer and blend until well combined.

Mix together almond flour and gluten-free flour blend. Slowly add to wet ingredients inside of the mixer. Mix for 2 minutes.

Turn off mixer and hand mix in baking soda.

Butter donut pans and fill to rim with batter. Bake for 15 minutes.

Allow to fully cool before dipping into caramel sauce.

In a microwave-safe bowl wider than the width of the donuts, add all ingredients for caramel glaze. Microwave for 2 minutes, stopping and stirring every 30 seconds until smooth.

Dip donuts into caramel and top with favorite toppings.
Made with these products: