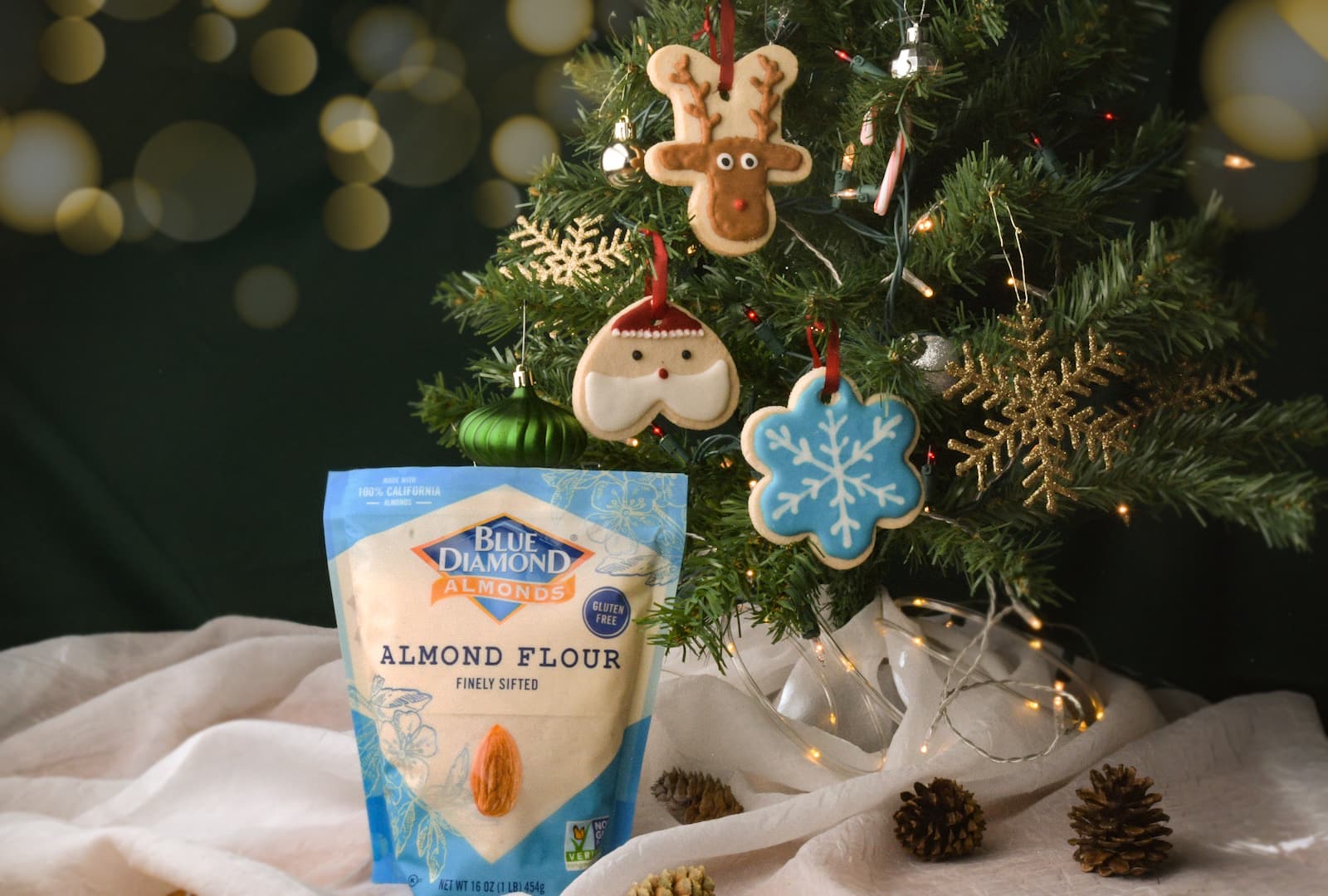 Watch Video
Almond Flour Shortbread Ornaments and Decorating Hacks
Nutrition Information
Calories
321
Total Fat
23 g
Total Carbohydrates
26 g
Cholesterol
21 mg
Sodium
8
Potassium
193 mg
Dietary Fiber
3 g
Sugars
22 g
Protein
6 g
Ingredients
Cookie Dough:
Icing:
2 cups powdered sugar

3 tablespoons milk

Food Coloring (red, blue, brown, black)
Directions
In a bowl add Blue Diamond Almond Flour, powdered sugar, unsalted butter and vanilla extract. Mix until a dough forms and it pulls away from the sides of the bowl. Chill dough for 30 minutes.

Preheat the oven to 325 degrees fahrenheit.

Roll out chilled dough between two sheets of parchment paper to a ¼ inch thickness.

Next, a fun holiday decorating hack! If you don't have any holiday cookie cutters it's ok, you can use these classic cookie cutters found year round. The cookie cutters needed will be a heart, gingerbread man and star. Press your cookie cutters down into the dough to make each shape as usual. Transfer the dough to a parchment lined cookie sheet. You can also use a circle piping tip to make a hole in each cookie, so once they are baked you will be able to make cookie ornaments!

Bake for 14 minutes for 4" cookies or until lightly golden.

While the cookies are cooling we can make the icing. In a bowl mix powdered sugar and milk. Separate icing into 5 separate bowls/cups. Mix in the food coloring and leave the last cup of icing white. Then separately add each icing into a piping bag.

Cookie Decorating Hacks: – First, we are going to make Santa out of an upside down heart shaped cookie. Santa's hat will be the pointy part of the heart. The beard will be the two round edges and the eyes will be in the center. – Next, we are going to make a snowflake out of a star cookie cutter. Fill in the star with blue frosting, then create the snowflake lines in the center with white frosting. – Lastly, we are going to transform a gingerbread man cookie into a reindeer! Flip the gingerbread man upside down and the reindeer antlers will be the legs. The arms of the gingerbread man will become the ears of the reindeer and the face will be the head.

Let the cookie icing dry and either hang them on your tree as an ornament by tying thin ribbon through the cookie holes or enjoy them with family and friends.
Made with these products: