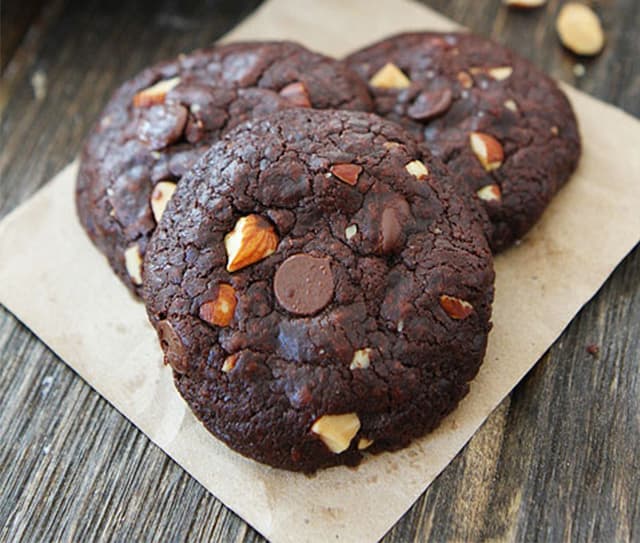 Vegan Chocolate Almond Cookies
Nutrition Information
Total Fat
7.9 g
Total Carbohydrates
18.2 g
Cholesterol
1.7 mg
Sodium
75.6 mg
Potassium
67.4 mg
Dietary Fiber
1.4 g
Sugars
11.0 g
Protein
2.1 g
Ingredients
1 1/4 cups all-purpose flour

1 teaspoon baking powder

1/2 teaspoon salt

2/3 cup Dutch process cocoa

1/2 cup coconut oil (melted and cooled to room temperature)

1/2 cup granulated sugar

1/2 cup dark brown sugar

1 1/2 teaspoons vanilla extract

3/4 cup chopped almonds

1/2 cup vegan chocolate chips
Directions
Preheat oven to 350 degrees F and line baking sheets with a Silpat baking mat or parchment paper.

In a medium bowl, whisk together flour, salt, baking powder and cocoa. Set aside.

In the bowl of a stand mixer, combine sugars and coconut oil. Beat on medium-high until well combined. Add the vanilla and beat until smooth.

Add the flour mixture in two batches, alternately with the milk, with the mixer on low. Stir in the almonds (consider our low salt snack almonds for a low sodium option) and chocolate chips.

Form dough into cookie dough balls, using a cookie scoop or spoon. Place on prepared baking sheets, about 2 inches apart. Sprinkle with sea salt, if desired. Lightly press down on the cookies with the palm of your hand. Bake the cookies for 12 minutes or until the cookies are set around the edges, but soft in the center. Let the cookies cool on the cookie sheet for two minutes. Transfer to a wire cooling rack and cool completely.
Made with these products: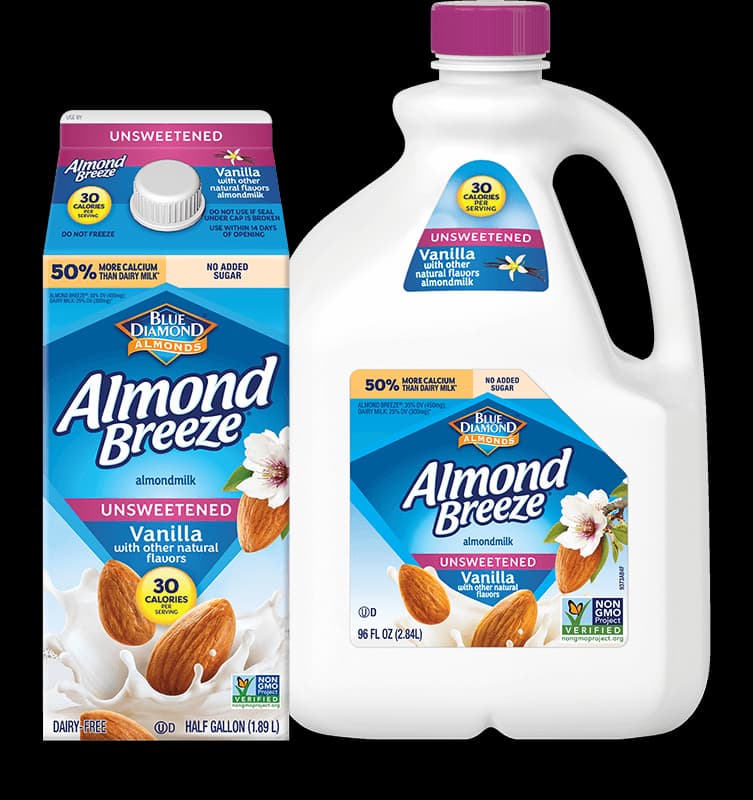 Unsweetened Vanilla Almondmilk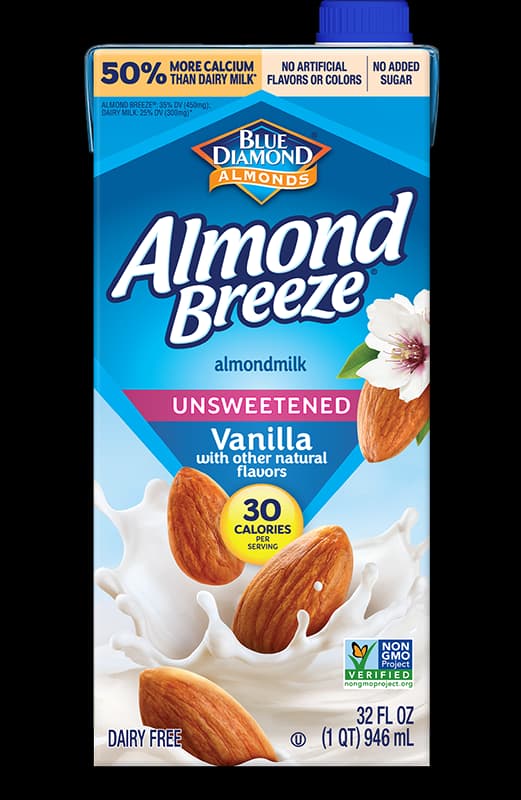 Shelf Stable Unsweetened Vanilla Almondmilk
Notes:
Make sure you use vegan chocolate chips if you need the cookies to be vegan. I like Enjoy Life brand. Store cookies in an air-tight container, for up to 3 days. They also freeze well!
Courtesy of: Two Peas and Their Pod