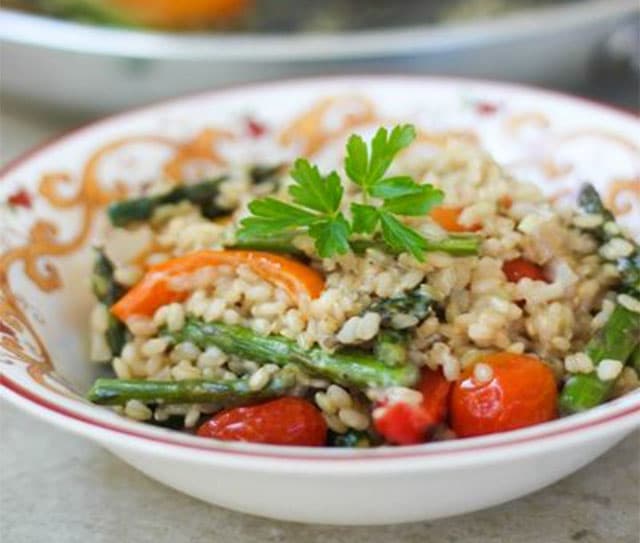 Spring Roasted Vegetable Risotto
Nutrition Information
Total Fat
4.4 g
Total Carbohydrates
28.8 g
Cholesterol
5.2 mg
Sodium
182.6 mg
Potassium
267.5 mg
Dietary Fiber
2.5 g
Sugars
0.7 g
Protein
3.0 g
Ingredients
1 shallot; finely minced

2 cloves of garlic; minced

1 tablespoon butter

1/2 cup white wine (or vegetable broth)

1/2 cup vegetable broth

1 1/2 cups short grain brown rice (you can also use white but I enjoy the nutty flavor the brown rice provides)

1 cup grape tomatoes

1 bunch of asparagus; washed and chopped

2 bell peppers; sliced

Salt

pepper

olive oil

Fresh chopped parsley for garnish

2-4 oz crumbled goat cheese (optional)
Directions
Preheat the oven to 400 degrees and spray a standard cookie sheet with olive oil or nonstick spray.

Add your asparagus, tomatoes and bell peppers to the cookie sheet, drizzle with olive oil and season well with salt and pepper.

Place in the oven to cook for 30-40 minutes, until roasted and glorious.

Start your rice. In a large saucepan on medium-low heat, add the butter, shallot and garlic. Heat for 3-5 minutes, until translucent, turn the heat to low and add the wine to scrape up the bits from the bottom of the pan.

Next, add the broth, the milk and the rice.

Bring up to high heat, then reduce to a simmer and cover.

Make sure to stir frequently and that there is always enough liquid to prevent the rice from burning. This will take about 45 minutes, so grab a magazine and stay close to the kitchen so you can occasionally stir! (It's worth it, I promise)

When the rice is fully cooked, stir in the goat cheese (optional), the roasted vegetables and top with chopped fresh parsley.
Made with these products: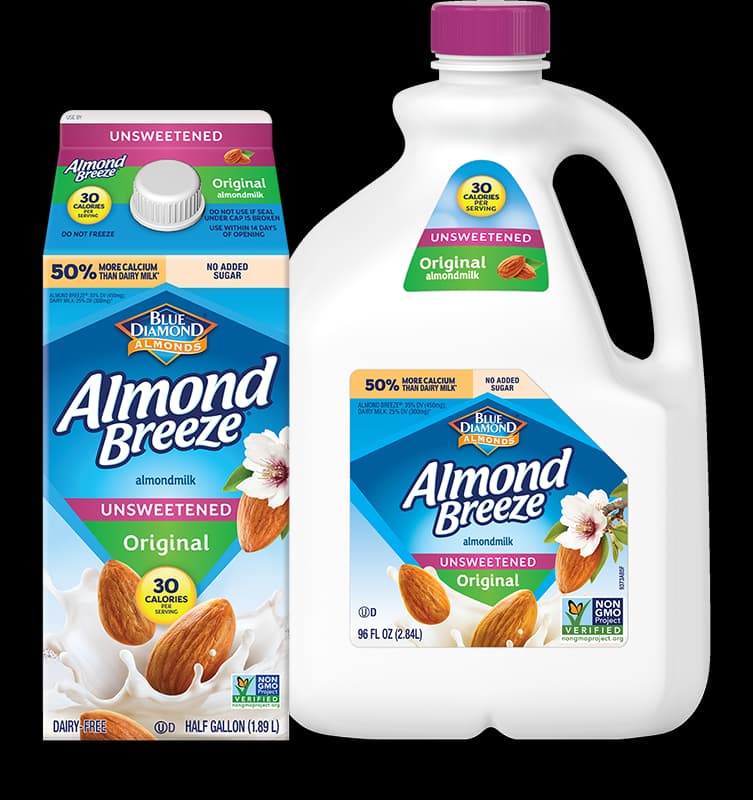 Unsweetened Original Almondmilk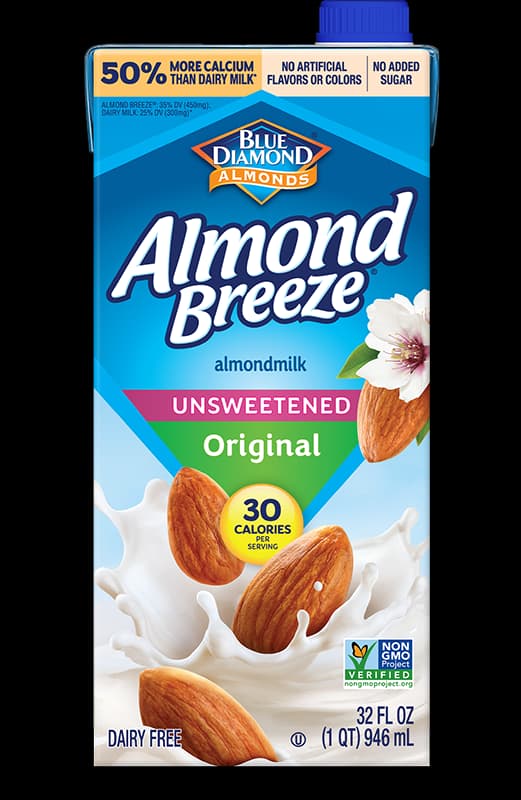 Shelf Stable Unsweetened Original Almondmilk
Notes:
Feel free to use any short grain or Italian rice you enjoy (like arborio, carnaroli or violone nano). This reheats beautifully, so don't be afraid to make it in advance and heat up for lunch the next day.
Courtesy of: The Fitnessista