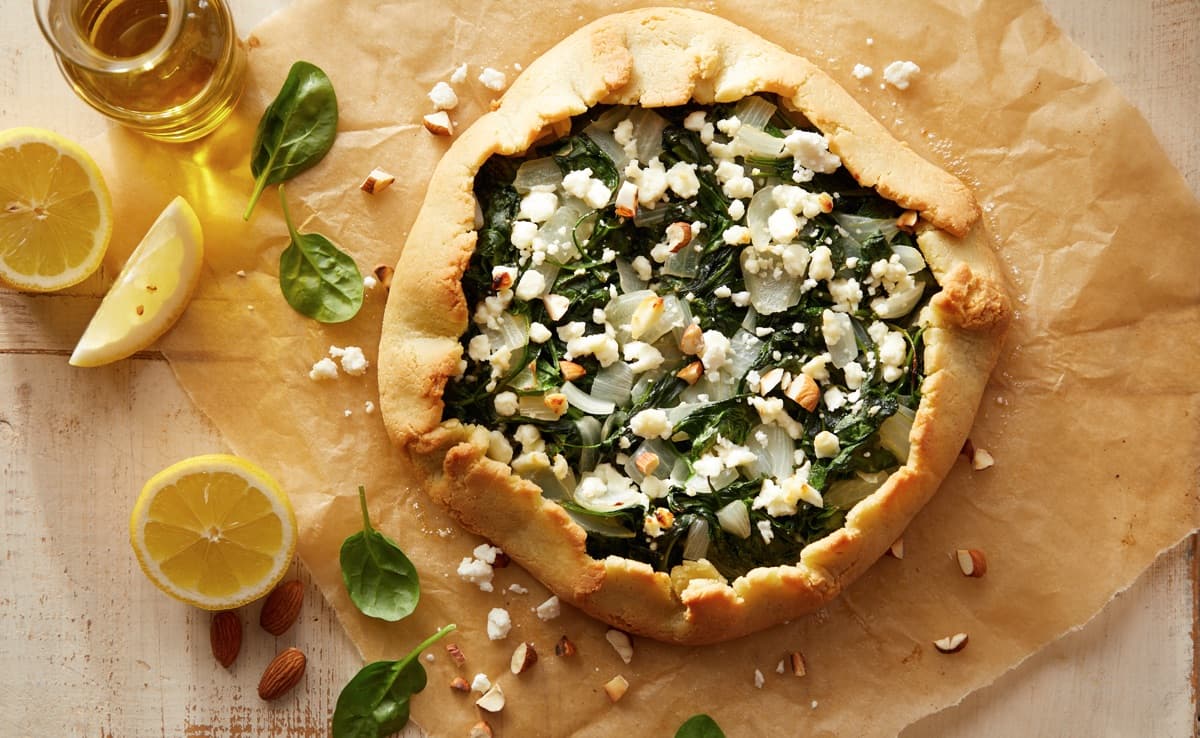 Savory Spinach Galette
Nutrition Information
Total Fat
28g
Total Carbohydrates
12g
Cholesterol
35mg
Sodium
340mg
Dietary Fiber
5g
Sugars
3g
Protein
11g
Ingredients
¾ tsp. salt, divided

1 egg

3 Tbsp. olive oil, divided

1 medium onion, chopped

8 cups baby spinach

1 tsp. fresh lemon juice

¼ cup crumbled feta

Coarsely ground black pepper, optional

Toasted pine nuts, optional
Directions
Preheat oven to 400°F. Line a baking sheet with parchment.

Combine flour, ½ teaspoon salt, egg and 2 tablespoons olive oil in a bowl until combined. Pat dough into a 4" disk; cover with plastic wrap and chill 30 minutes.

Heat remaining oil in a large skillet over medium heat. Add onion and remaining salt to pan; sauté 3 minutes or until softened and beginning to brown. Add spinach: sauté 1 minute or until wilted. Remove pan from heat and stir in lemon juice. Cool to room temperature.

Unwrap chilled dough and place on prepared pan. Cover top of dough with plastic wrap and roll to a 10"circle. Add spinach mixture to crust, leaving a 1" border. Sprinkle feta over filling. Using the parchment as an aid, fold edges of dough over filling. Bake at 400°F for 18 minutes or until crust is browned. Cool on parchment, on rack, 10 minutes before slicing. Sprinkle with pepper and pine nuts before serving, if desired.
Made with these products: