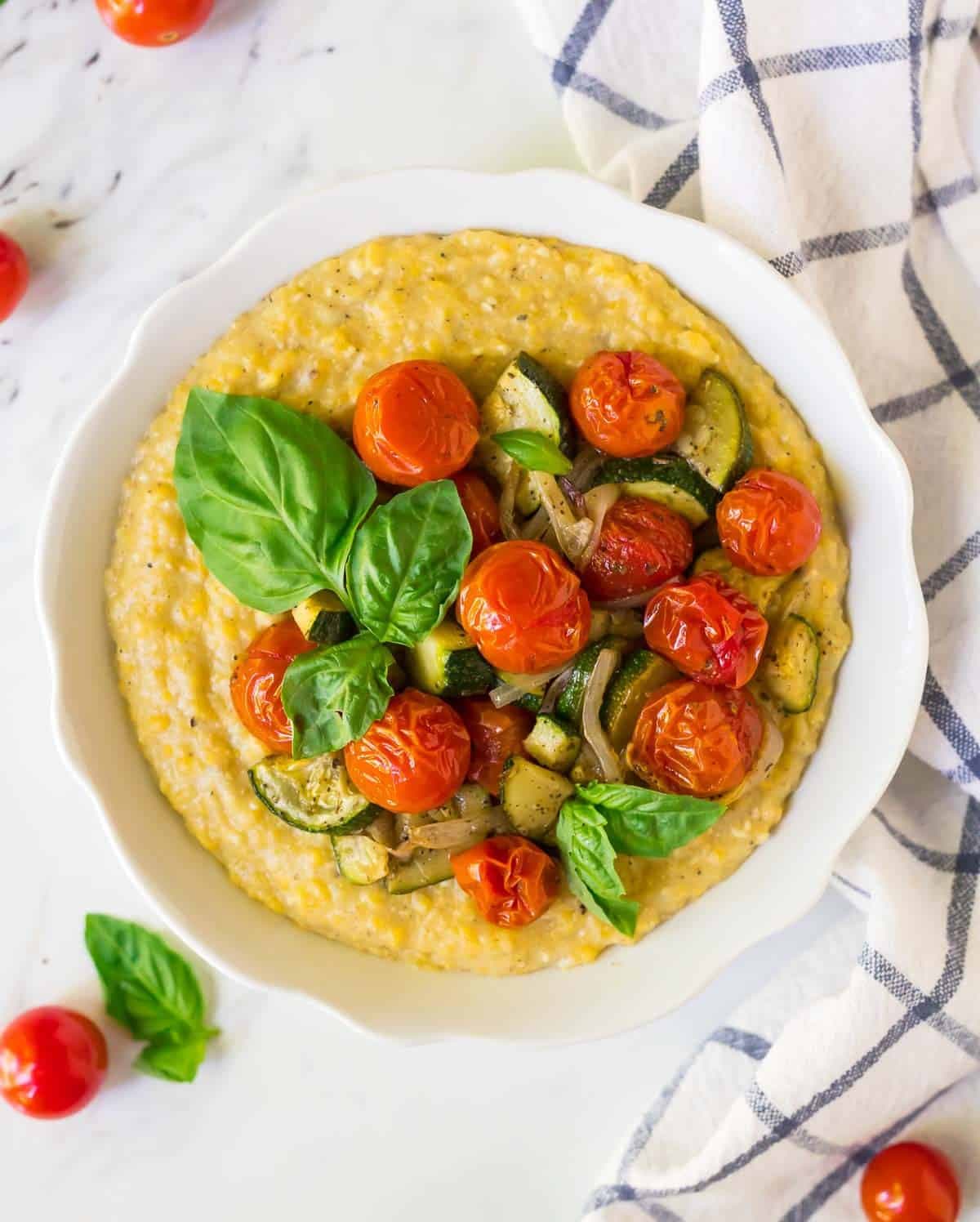 Creamy Polenta with Zucchini and Tomatoes
Nutrition Information
Total Fat
14g
Total Carbohydrates
31g
Cholesterol
15mg
Dietary Fiber
5g
Sugars
5g
Protein
6g
Ingredients
For the Zucchini and Tomatoes
2 pints cherry or grape tomatoes

1 pound zucchini (2 medium) quartered length-wise then cut into 1/4-inch slices

1 large shallot thinly sliced

2 tablespoons extra virgin olive oil

1 teaspoon kosher salt

3/4 teaspoon dried oregano

1/2 teaspoon black pepper,
For the Polenta
2 cups low sodium vegetable broth

2 cloves minced garlic (about 2 teaspoons)

3/4 cup polenta (stone-ground whole grain corn meal white or yellow)

3/4 teaspoon kosher salt

1/2 teaspoon black pepper

2 tablespoons nutritional yeast or freshly grated Parmesan cheese (optional)

2 tablespoons unsalted butter or non-dairy butter substitute

1/4 cup thinly sliced fresh basil leaves
Directions
For the vegetables: Preheat the oven to 400 degrees F. For easy clean up, line a large, rimmed baking sheet with parchment paper. Place the grape tomatoes, chopped zucchini, shallot, oregano, and olive oil in a bowl, then drizzle with olive oil and sprinkle with salt and cracked black pepper. Toss to coat, then spread the vegetables mixture onto the prepared baking sheet.

Roast for 30-35 minutes, or until the tomatoes burst and the shallots are crisp, tossing and spreading the vegetable back into a single layer twice throughout. Remove from the oven and set aside.

While the vegetables roast, prepare the polenta: Combine the broth, almondmilk, and garlic in a large saucepan and bring to a boil over high heat. Reduce the heat to a simmer and very slowly whisk in the cornmeal, adding it in a very thin stream and whisking constantly to make sure there are no lumps.

Switch to a wooden spoon and reduce the heat to medium. Add the salt and pepper. Simmer for 5-10 minutes, stirring almost constantly and scraping the bottom of the pan to prevent sticking, until the polenta thickened. The timing will vary based on the brand and type of polentayou use. Remove from the heat and stir in the nutritional yeast and butter. Taste and add additional salt, pepper, or nutritional yeast as desired.

To serve, ladle the polenta into serving bowls. Top generously with roasted vegetables and sprinkle with fresh basil.
Made with these products: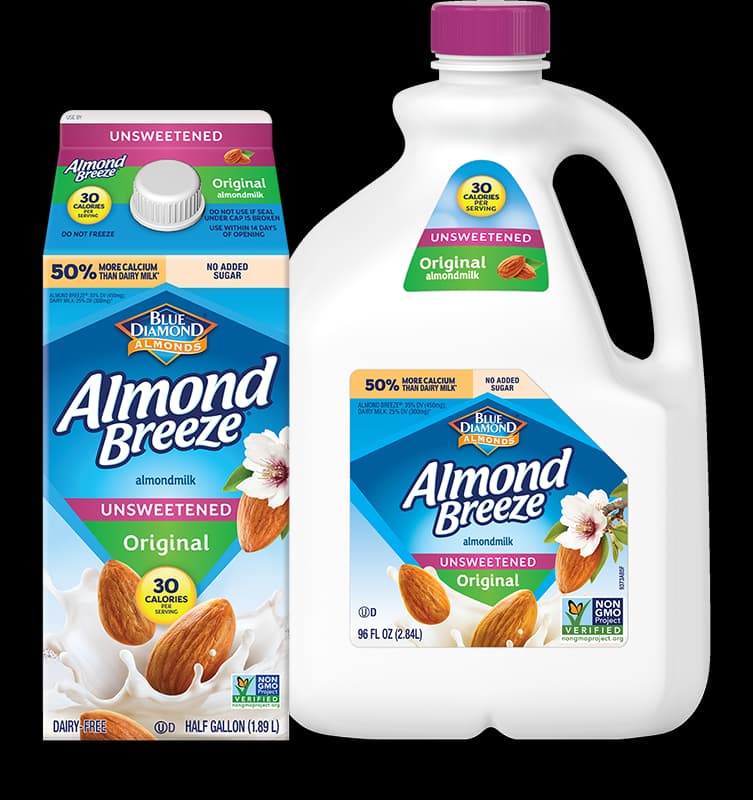 Unsweetened Original Almondmilk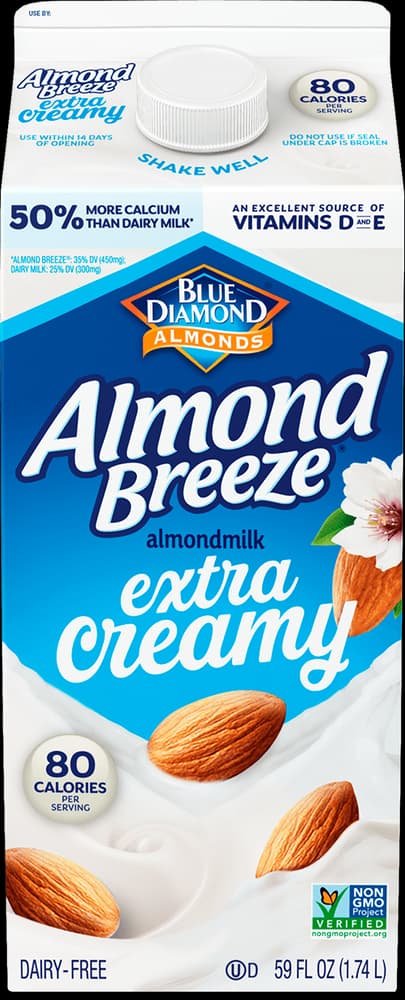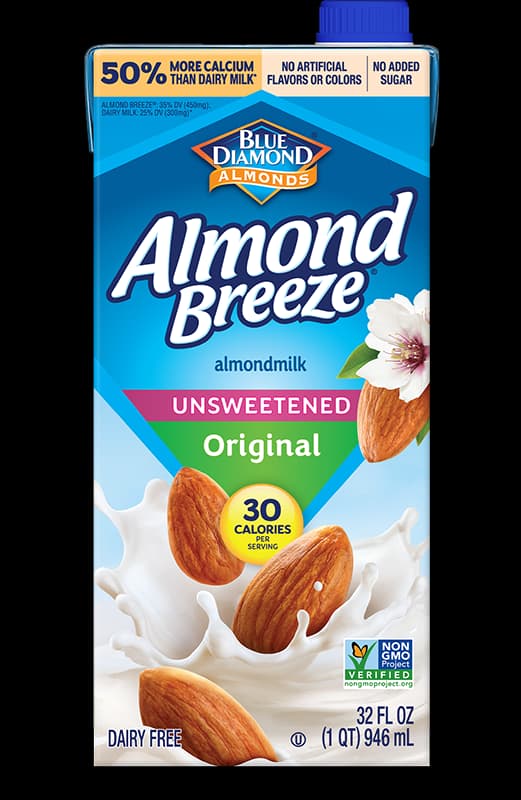 Shelf Stable Unsweetened Original Almondmilk
Notes:
Store leftover polenta and vegetables separately in the refrigerator for up to 3 days. Rewarm the polenta gently on the stove with a splash of broth, water, or almondmilk to thin it as needed. Stir often, until heated through. Reheat the vegetables in a small skillet over medium heat or in a 350 degree F oven.