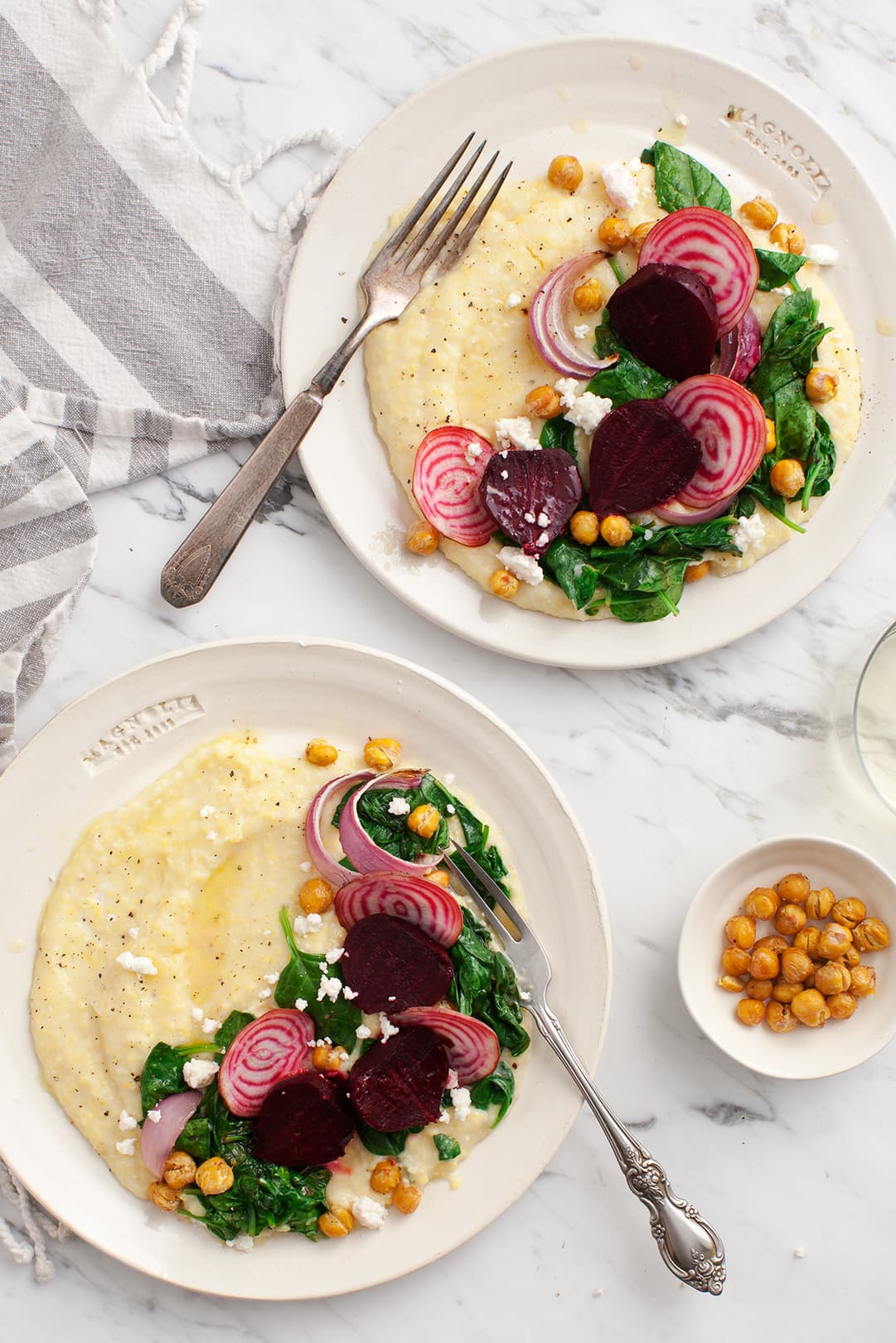 Creamy Polenta with Roasted Beets
Nutrition Information
No nutritional info available at this time.
Ingredients
6 to 8 small red beets

½ Chioggia beet sliced into 8 paper-thin slices

½ small red onion sliced into wedges

1 cup cooked chickpeas drained and rinsed

4 cups fresh spinach

2 tablespoons crumbled feta cheese (optional)

1 cup water (more as needed)

½ cup stone ground polenta corn grits (not instant)

1 tablespoon extra-virgin olive oil (more to taste)

1 small clove garlic minced

2 tablespoons lemon juice

¼ teaspoon Dijon mustard
Directions
Preheat the oven to 400°F and line a baking sheet with parchment paper. Wrap the whole red beets in a sheet of aluminum foil with a drizzle of olive oil and a pinch of salt.

Place on the baking sheet and roast for 40 to 50 minutes, or until soft and fork-tender. The timing will depend on the size and freshness of the beets. Set the sliced Chioggia beet aside as it will be served raw.

In a medium saucepan over medium-high heat, bring the Almond Breeze Unsweetened Original Almondmilk (or Almond Breeze Extra Creamy Almondmilk), water and a ½ teaspoon salt to a gentle boil. Add the polenta and whisk to combine.

Reduce the heat to low and simmer, stirring every 5 to 10 minutes. Be careful that the mixture does not start to bubble. This will scorch the polenta and leave a bitter taste.

Continue stirring for about 45 minutes or until the polenta has thickened but is still soft and creamy. Stir in 1 tablespoon of olive oil and more salt and pepper to taste. Remove from the heat and set aside.

Meanwhile, line another baking sheet with parchment paper and toss the onion wedges and chickpeas with a drizzle of olive oil and generous pinches of salt and pepper. Roast for 25 to 30 minutes or until the chickpeas are crisp and the onions are soft.

In a small, shallow bowl, whisk together the olive oil, garlic, lemon juice and Dijon mustard. Season with salt and pepper. Place the raw Chioggia beet slices in the dressing and let them marinate until you're ready to plate.

Remove the roasted red beets from the oven, unwrap the foil, and set aside to cool.

When they are cool to the touch, peel the skins. Slice the beets in half, sprinkle with a pinch of salt, and set aside.

In a medium skillet, heat 1 teaspoon of olive oil over medium heat. Add the spinach and a pinch of salt and pepper and toss.

When the spinach starts to wilt, reduce the heat and add the garlic and a squeeze of lemon. Toss and remove from heat.

Assemble plates with a scoop of polenta, the sautéed spinach, roasted onions, roasted chickpeas, roasted beets, raw beets and feta cheese, if using. Drizzle the remaining Lemon Dijon dressing over the vegetables. Finish with chopped Blue Diamond Roasted Salted Almonds for added crunch, freshly ground black pepper and a pinch of sea salt, if desired.
Made with these products:
Notes:
To make the polenta in advance, follow the directions as written but stop stirring after about 30 minutes (before the polenta is thickened). Let cool, then chill until read to cook. When ready to cook, add ¼ cup water and heat the polenta on the stove, whisking vigorously until it becomes creamy again. Add more water if needed. Add the olive oil and season to taste.
Courtesy of: Love and Lemons