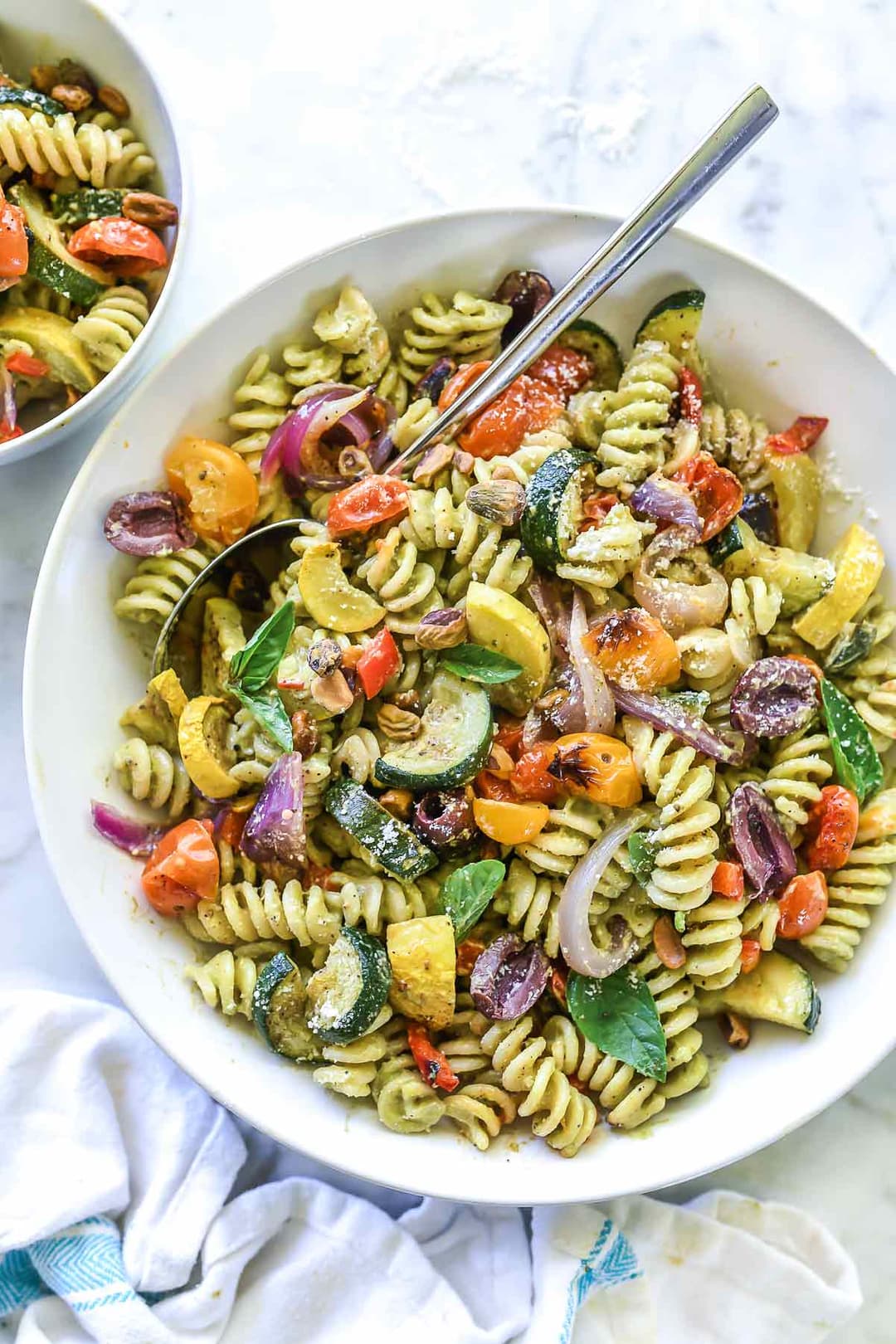 Creamy Avocado Pasta Salad with Roasted Vegetables
Nutrition Information
No nutritional info available at this time.
Ingredients
3 cups of sliced vegetables for roasting such as (1 small green zucchini halved and sliced / 1 small yellow squash halved and sliced / 1 red bell pepper, seeded and chopped / ½ red onion sliced)

1 cup cherry tomatoes halved

2 tablespoons olive oil

2 teaspoons kosher salt

2 teaspoons freshly ground black pepper

1 16-ounce package short pasta such as rotelle or penne

1 avocado

6 ounces of pesto

½ lemon juiced

½ cup halved Kalamata olives

¼ cup grated Parmesan cheese

¼ cup toasted pine nuts or pistachios or sliced almonds

Basil leaves
Directions
Preheat the oven to 425° F and prepare a baking sheet with aluminum foil. Toss the sliced veggies with olive oil and 1 teaspoon of both kosher salt and freshly ground black pepper. Roast for 10-15 minutes or until the veggies soften and caramelize. Set aside to cool.

Meanwhile, cook the pasta in salted water according to package directions, drain, rinse, and cool.

Add the avocado to the blender jar and pulse a few times. Add the almond milk, pesto, lemon juice, and the remaining 1 teaspoon each of kosher salt and pepper. Blend on high until light and frothy. Add more almond milk if needed to create a lush sauce.

Add the cooked pasta to a large mixing bowl with the cooked veggies and kalamata olives. Drizzle with the avocado sauce and toss to coat. Taste and adjust the seasoning, garnish with the Parmesan cheese, nuts and more basil leaves if desired. Serve at room temperature or chilled. Will keep for 1-2 days.
Made with these products: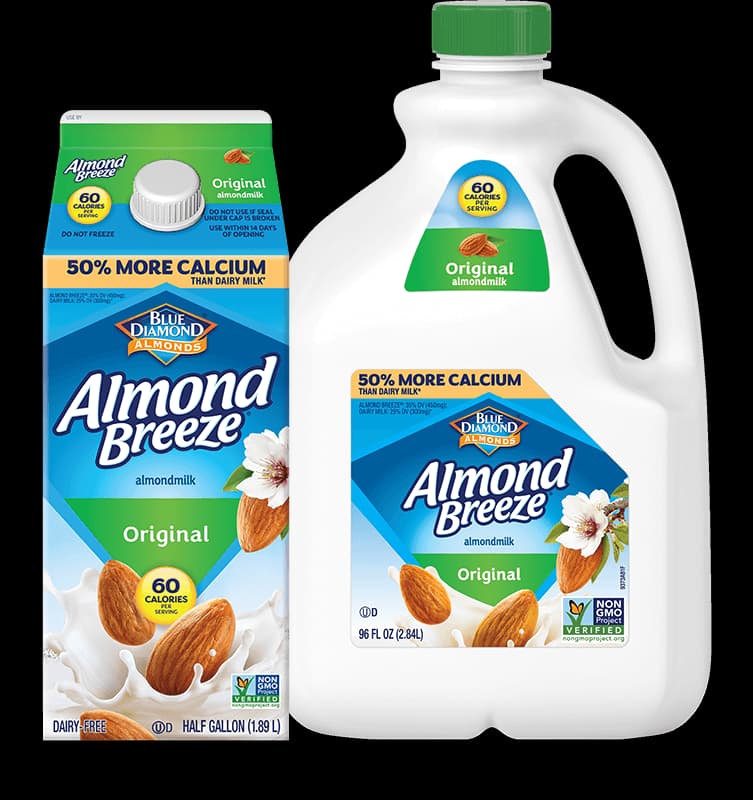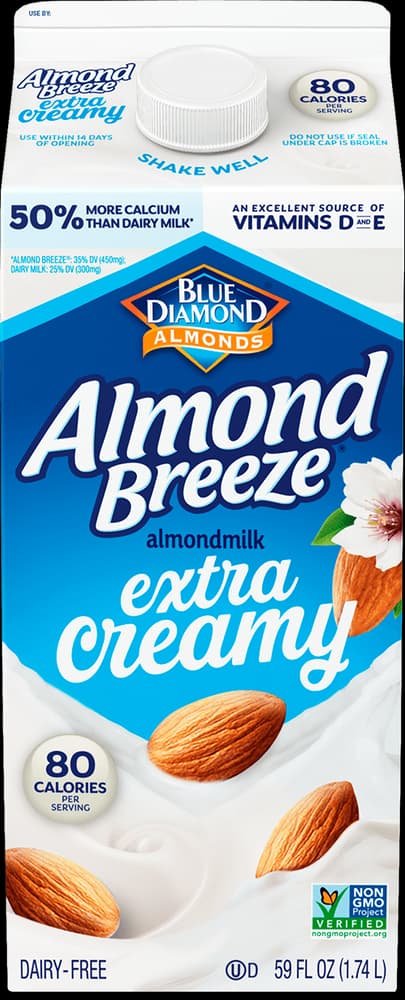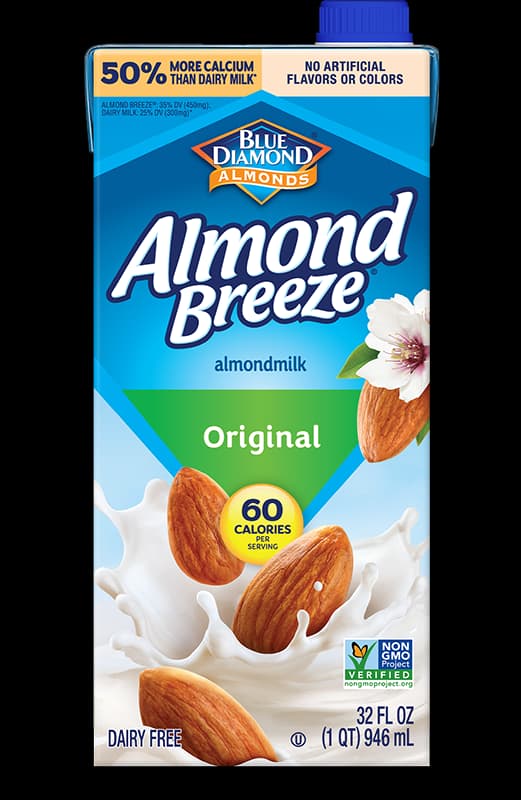 Shelf Stable Original Almondmilk