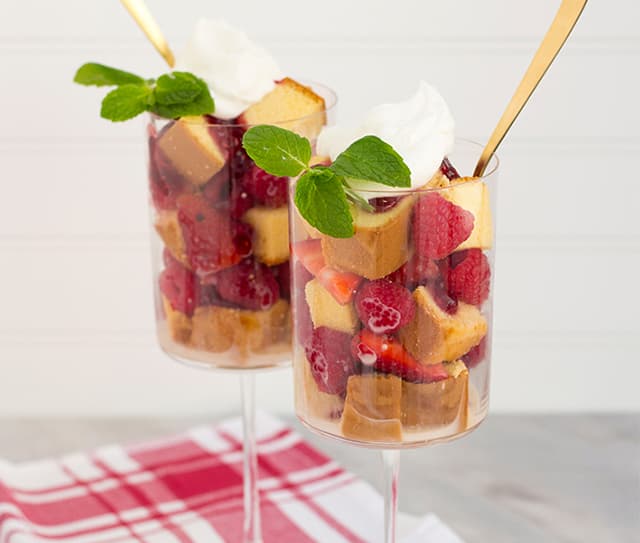 Berries and Cream Parfaits
Nutrition Information
Total Fat
13.0 g
Total Carbohydrates
65.5 g
Cholesterol
37.1 mg
Sodium
334.4 mg
Potassium
264.4 mg
Dietary Fiber
4.1 g
Sugars
26.4 g
Protein
4.2 g
Ingredients
4 slices of pound cake; cubed (I used Sara Lee® All-Butter Frozen Pound Cake)

1 vanilla been; scraped

2 cinnamon sticks

1 Tbsp sugar; optional

1/4 cup raspberry jam

1/2 cup raspberries

1/2 cup sliced strawberries

Whipped cream & mint; for garnish
Directions
Using a sharp knife, split the vanilla been lengthwise and using the back of the knife, scrape out the seeds. In a small saucepan combine Almond Breeze, the scraped vanilla bean seeds, vanilla been pod, cinnamon sticks and sugar. Note: If you are using Vanilla Almond Breeze you can skip the sugar.

Bring mixture to a simmer over medium-low heat, whisking to break up the vanilla bean seeds. Remove from heat and allow to cool completely. Remove cinnamon and vanilla bean pod and refrigerate until cold.

In a parfait glass layer cubed pound cake, a drizzle of the chilled vanilla bean Almond Milk mixture, a drizzle of jam, and a few berries. Repeat layers until you have reached the top of your glass. Finish with an extra drizzle of the vanilla bean cream.

Top with whipped cream and a sprig of mint.
Made with these products: