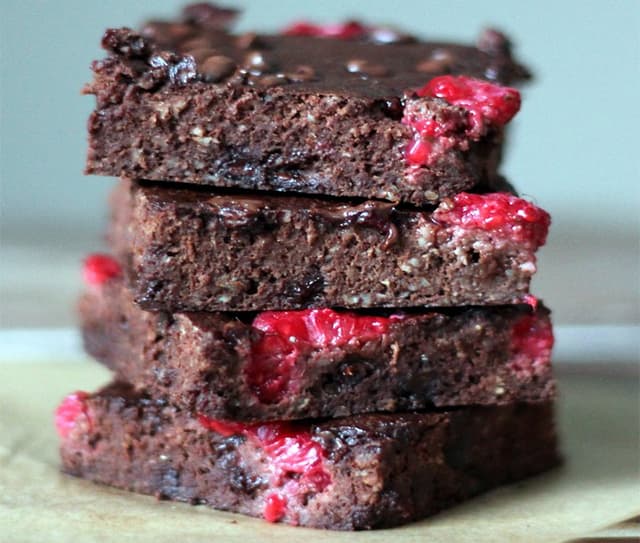 Chocolate Raspberry Protein Brownies
Nutrition Information
Total Fat
5.5g
Total Carbohydrates
11.5 g
Cholesterol
-
Sodium
-
Potassium
-
Dietary Fiber
2 g
Sugars
7 g
Protein
5 g
Ingredients
1/4 cup gluten free rolled oats

1/2 cup unsweetened cocoa powder

1/2 cup Whey Chocolate Protein Powder (see notes for additional info)

1/2 cup unsweetened applesauce

1 egg

1 tablespoon honey

1 teaspoon vanilla extract

2 tablespoons coconut oil

1/4 cup chocolate chips plus 2 tablespoons for topping

1/2 cup raspberries; broken up into large pieces
Directions
Preheat oven to 350 degrees F. Spray 8×8 inch baking pan with nonstick cooking spray.

Place oats in blender and blend for a minute or until they resemble the consistency of flour (yes, you just made oat flour!). Transfer oat flour to medium bowl then whisk in protein powder and cocoa powder; set aside.

Whisk together applesauce, egg, honey, vanilla and unsweetened chocolate almond milk until smooth and well combined. Add to dry ingredients and mix together until just combined.

Heat coconut oil and 1/4 cup of the chocolate chips in a small saucepan over very low heat; stir continuously until all chocolate chips and coconut oil have melted together (you can also heat them in a microwave safe bowl for 30-45 seconds). Gently stir into brownie batter.

Pour mixture into prepared pan. Sprinkle remaining 2 tablespoons of chocolate chips and raspberries on top; sometimes I like to swirl them in the batter with a knife. Bake for 18-22 minutes or until just cooked through and the top has set. Transfer pan to wire rack to cool completely. Once cool, cut into 12 bars — please note that bars should be kept covered in the refrigerator and enjoyed cold!
Made with these products: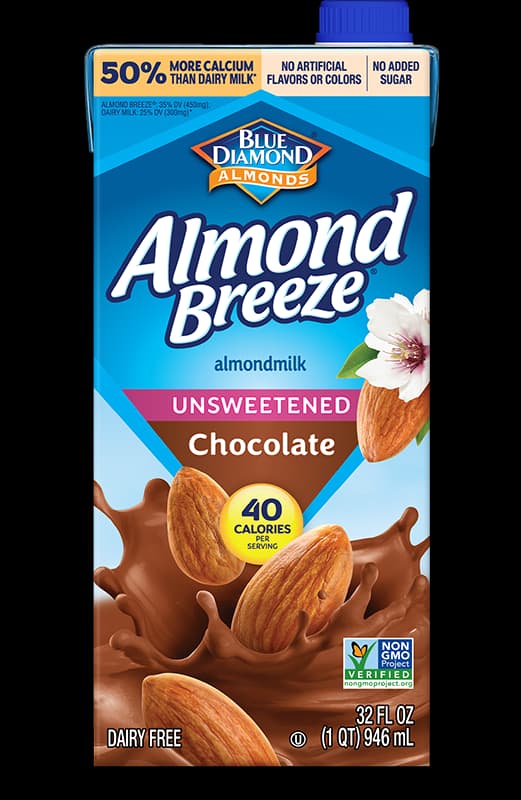 Shelf Stable Unsweetened Chocolate Almondmilk
Notes:
I used Pro Performance AMP Amplified Wheybolic Extreme 60 Chocolate Protein Powder from GNC and the calories reflect that – each scoop is about 90 calories. Any vanilla or chocolate protein powder should work fine though!
If you don't have applesauce on hand, you can substitute with 1 small ripe banana. I've experimented with both!
To make vegan: I suspect that you can make this recipe vegan by using a vegan protein powder such as Vega, and by using a flax egg. I have not tested this though. Also, please make sure to use vegan chocolate chips and agave instead of honey.
If you want to make this recipe gluten free, please ensure that your protein powder and vanilla are gluten free.
Instead of raspberries why not add some of your favorite toppings? Coconut and sliced snack almonds would be delicious! Do your thing!
Courtesy of: Ambitious Kitchen