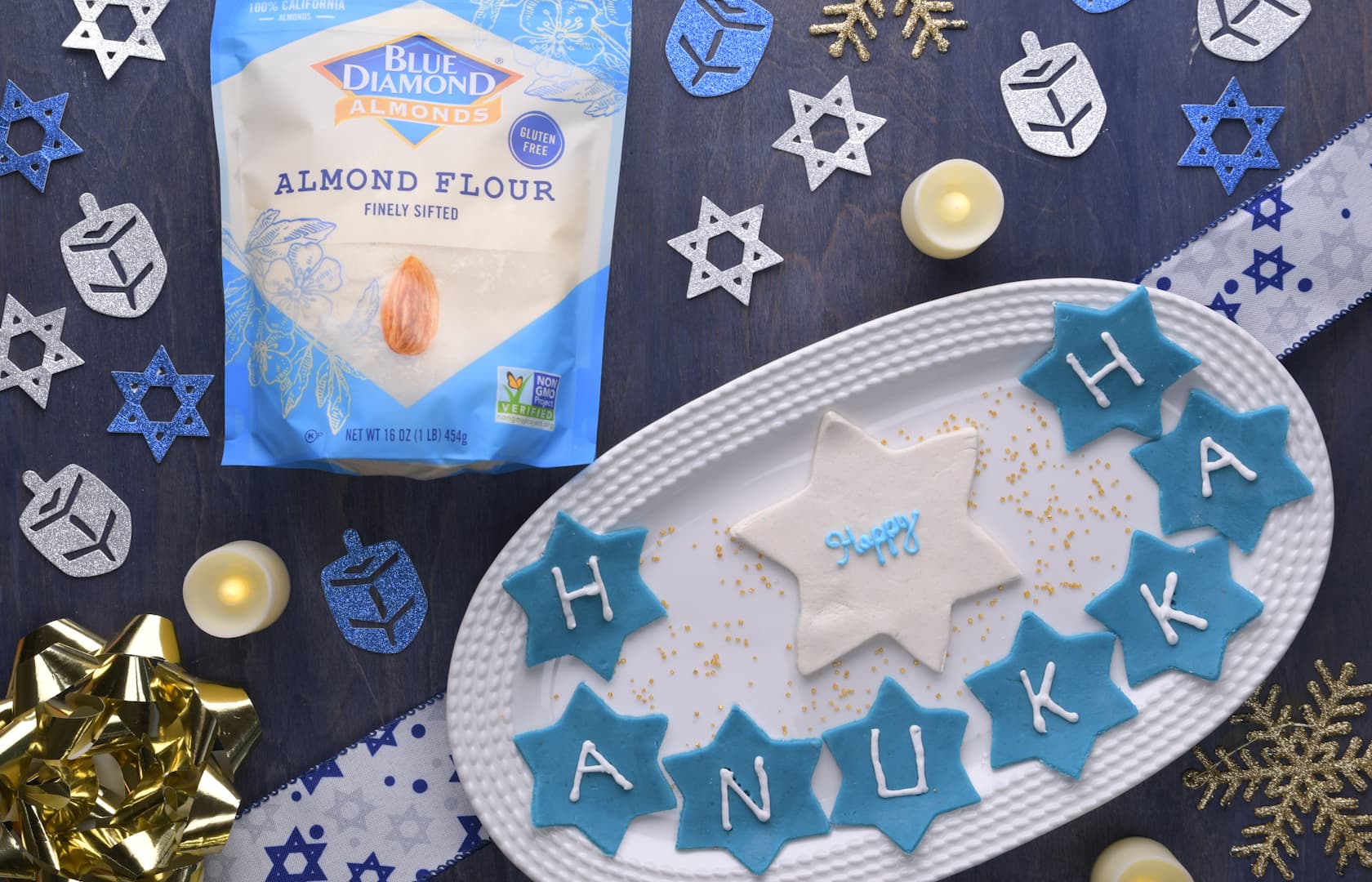 Watch Video
Easy Cookie Cutter Marzipan Candy
Nutrition Information
Calories
138
Total Fat
6.3 g
Total Carbohydrates
19.1 g
Cholesterol
0 mg
Sodium
2.1
Potassium
79.1 mg
Dietary Fiber
1.3 g
Sugars
16.4 g
Protein
2.5 g
Ingredients
Marzipan Candies:
1 cup powdered Sugar

3 tablespoons water

1 tablespoon Vanilla Extract

Blue food coloring

White food coloring
Royal Icing:
1 cup powdered sugar

1 tablespoon meringue powder

1 ½ tablespoons water

Blue food coloring
Directions
In a food processor, add Blue Diamond Almond Flour, powdered sugar, water, and vanilla extract. Mix until the dough holds together to make a marzipan ball.

Separate the dough into two balls. Next, add blue food coloring to one ball and white food coloring to the other.

Sprinkle powdered sugar onto a clean surface and roll out the blue marzipan to ¼" thickness. Using a 2" Star of David cookie cutter, make 8 candies.

Then roll out the white marzipan to ¼" thickness. Using a 4" Star of David cookie cutter, make 1 large marzipan candy.

In a bowl, mix together the ingredients for the royal icing. Separate 3/4 of the royal icing into a separate bowl and mix in blue food coloring. Then add both the royal icings into two individual piping bags.

Next, we are going to spell out Happy Hanukkah on the Star of David marzipan candies. We are going to achieve this using fun stencil hacks! 1. Take the 8 blue Star of David candies and spell out each letter of Hanukkah on each star. To make sure your letters look perfect, you can use the teeth of a fork to imprint the letter on each candy. Then use the white royal icing trace over the indents. Set each candy aside to dry. 2. We are going to write "Happy" on the large Star of David. Place a piece of parchment paper over a happy birthday card or gift tag. Press down onto the parchment, so the word "Happy" is visible. Then take the blue royal icing and trace the word Happy. Then set it to the side to dry. 3. Carefully pick up the dried royal icing and set it on top of the white Star of David. Be sure to push it down slightly so it sticks to the candy.

Arrange these festive Hanukkah candies on a plate for your friends and family to enjoy!
Made with these products: