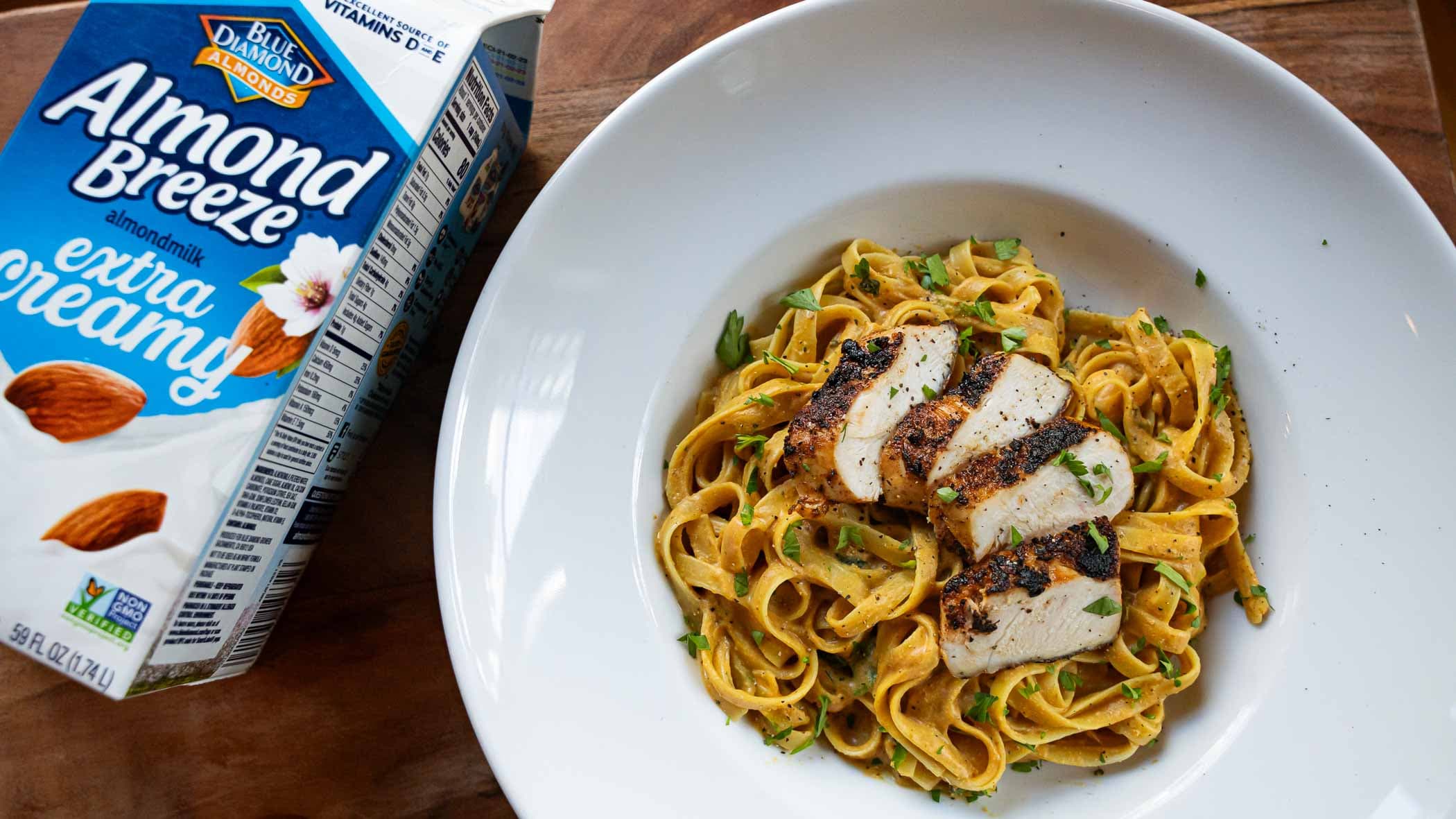 Creamy Chicken & Sage & Pumpkin Pasta
Nutrition Information
No nutritional info available at this time.
Ingredients
10oz uncooked fettuccine

1 ½ cups raw baby spinach leaves

Spray olive oil
Chicken
1 ½ lb chicken breasts (small size or skinless tenderloins)

1/2 tablespoon olive oil

1 teaspoon garlic powder

2 teaspoons onion powder

2 teaspoons smoked paprika

½ teaspoon cayenne

Pinch of sea salt

Generous pinch of cracked pepper

2 teaspoons dried parsley (optional)
Sauce
1 tablespoon olive oil

1 tablespoon (vegan) butter

1 medium white onion, finely diced

2 tablespoons fresh sage, chopped

1 cup canned pumpkin

1 cup grated parmesan, reduced fat (Substitute: nutritional yeast)

1 teaspoon nutmeg (optional)

1/4 cup pasta water (add tablespoons until you reach your desired consistency)
Garnish
Directions
Pasta
Bring a pot of salted water to a boil and add the fettuccine. Cook until al dente. Reserve about 1 cup of the pasta water, then drain and set the pasta aside.
Chicken
Season the chicken breasts in a bowl.

Set a nonstick skillet on medium-high heat; once hot, spray with oil and add the chicken breast.  

Cook on both sides until sear marks appear and the chicken is cooked through, for about 12-15 minutes.  Then, set aside and chop it into pieces.

Do not wipe the skillet clean.
Sauce
Place the skillet back on the heat and lower the temperature to medium.

Add the oil, butter, and onion – cook for about 2-3 minutes, enough for the onions to turn somewhat brown, then add the sage. Cook for 1-2 minutes until fragrant and the sage begins to shrivel.

Combine the warm almondmilk and pumpkin puree and whisk together until smooth.

Bring the sauce to a light simmer.

Continue whisking as you sprinkle in the parmesan, adding just a few tablespoons at a time until well incorporated.

Add the fettuccine and toss together with tongs. Add tablespoons of pasta water to help with consistency. If the pasta is too watery, carefully increase the temperature until the excess water is absorbed or has evaporated.

Reduce the heat to low and add the spinach on top.  Cover with a lid to help the spinach wilt, then fold into the pasta, adding tablespoons of pasta water as needed.
Assemble
Portion out a serving of the pasta, top with cut chicken, and garnish with fresh parsley.
Made with these products: