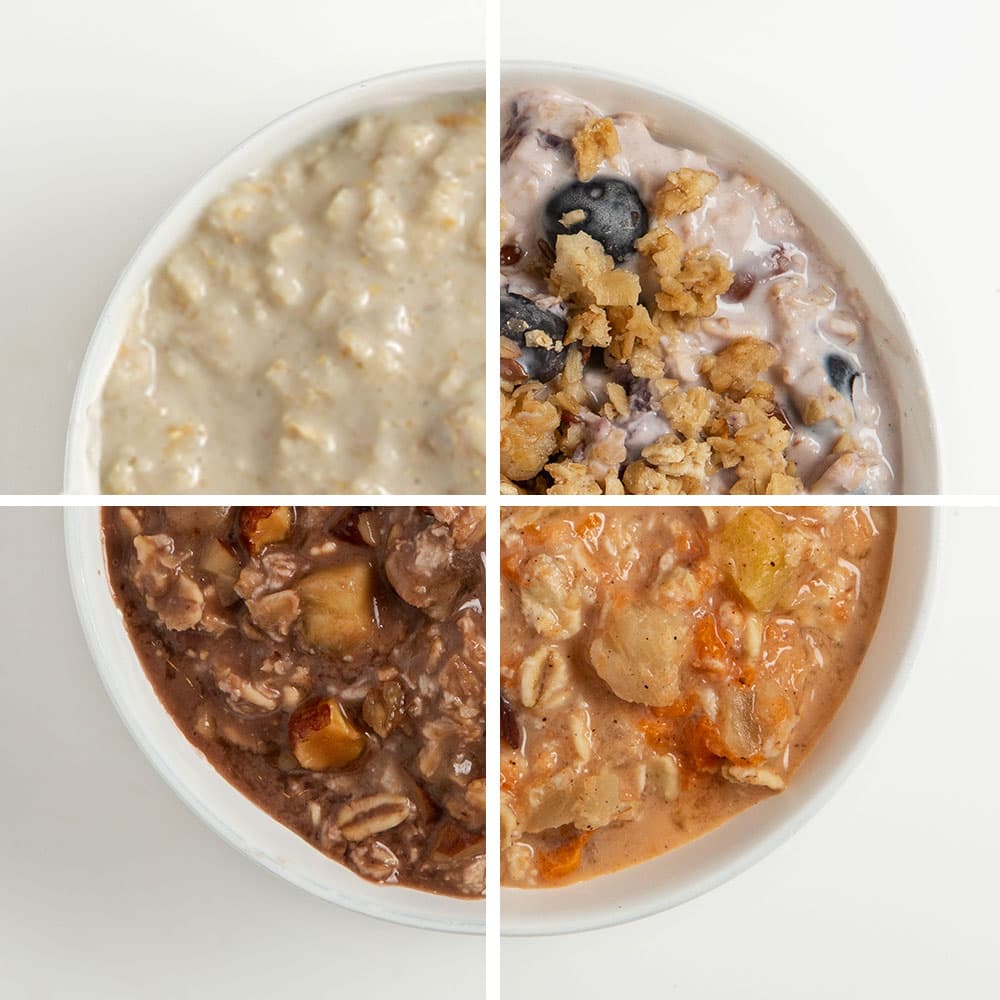 Almond Breeze Overnight Oats 4 Ways
Nutrition Information
Total Fat
5g
Total Carbohydrates
28g
Cholesterol
0mg
Sodium
120mg
Dietary Fiber
5g
Sugars
1g
Protein
6g
Directions
Stir together all ingredient except granola in a medium bowl. Spoon into 2 small bowls or canning jars. Top with equal amounts of granola, if desired.

Cover and refrigerate overnight or for up to 3 days.

To reheat: Place 1 portion in a microwave-safe container. Microwave on HIGH for 30 to 45 seconds.
Made with these products:
Notes:
*Use Almond Breeze Original or Vanilla Almondmilk for added sweetness
Blueberry Cobbler
1 1/3 cups Almond Breeze Unsweetened or Sweetened Vanilla Almondmilk*
1 cup rolled (old fashioned) oats
1/2 cup fresh blueberries
3 tablespoons coarsely chopped Blue Diamond Honey Roasted Almonds
1/4 cup granola (we like blueberry or French vanilla)
Optional: Top with a spoonful of blueberry Greek yogurt just before serving for added protein.
Chocolate Covered Banana
1 1/3 cups Almond Breeze Chocolate Almondmilk
1 cup rolled (old fashioned) oats
1/2 cup diced banana
3 tablespoons coarsely chopped Blue Diamond Honey Roasted Almonds
1/4 cup granola (optional)
Carrot Cake
1 1/4 cups Almond Breeze Unsweetened Vanilla Almondmilk*
1 cup rolled (old fashioned) oats
1/3 cup well drained juice-packed crushed pineapple
1/4 cup very finely grated carrot
3 tablespoons coarsely chopped Blue Diamond Honey Roasted Almonds
2 tablespoons brown sugar
1/2 teaspoon cinnamon
Large pinch nutmeg
1/4 cup granola (optional)
Courtesy of: Almond Breeze