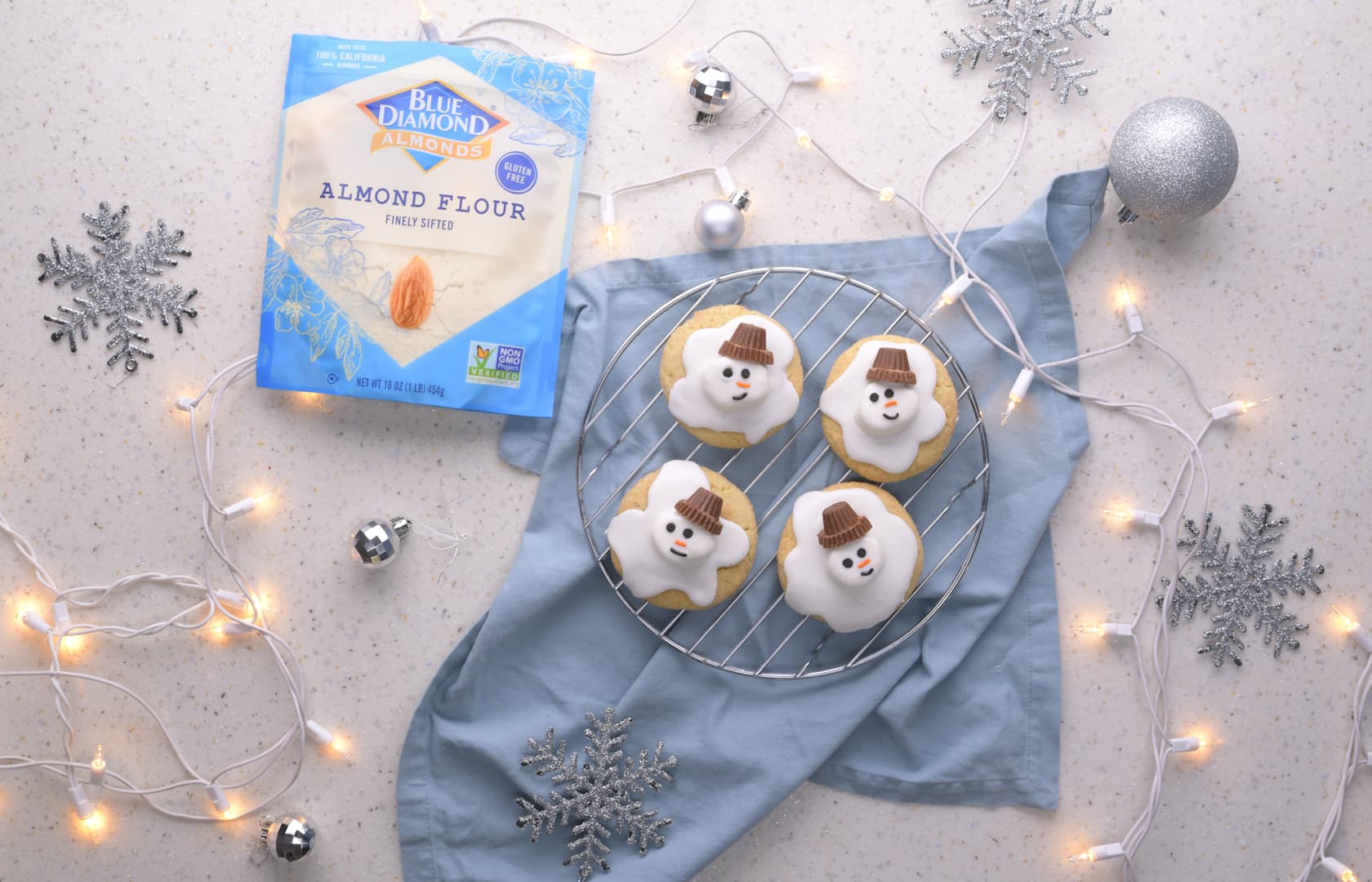 Watch Video
Melting Snowman Blondies
Nutrition Information
Calories
450
Total Fat
28.5g
Total Carbohydrates
45.2g
Cholesterol
42mg
Sodium
145.2mg
Potassium
283.2mg
Dietary Fiber
3.5g
Sugars
38.8g
Protein
8g
Ingredients
Cookies:
1 egg

¼ cup sugar

⅓ cup unsalted butter, room temperature

1 teaspoon vanilla extract

½ teaspoon baking soda

1 teaspoon cream of tartar

Pinch of Salt
Sugar Coating:
¼ cup sugar

1 tablespoon cinnamon
Cookie Toppings:
6 jumbo marshmallows

2 cups powdered sugar

4 tablespoons of unsalted butter, room temperature

2 tablespoon milk

black circle quin sprinkles

orange jimmies sprinkles

12 Reese's Minis

12 Reese's Cups
Directions
Cookies
Preheat the oven to 350 degrees fahrenheit.

In a bowl, mix together all the ingredients needed for the cookies. Mix until thoroughly combined and a dough forms.

On a plate, mix together the sugar and cinnamon. Then using a medium cookie scoop, scoop the dough onto the plate and roll it into the sugar coating.

Place the dough balls 1 ½" apart onto a cookie sheet lined with parchment paper. Bake for 12 minutes.
Toppings
While the cookies cool, cut the marshmallows in half and set aside.

Take each Reese's Cup and carefully slice off the ridge top about 2 mm in thickness. Then take Reese's Minis and place them on the ridged top you just cut off. Repeat to make 12 Reese's hats!

In a bowl, mix together powdered sugar, unsalted butter, and milk to make icing. Set aside.
Assembly
Now that the cookies are cool, time to assemble the melted snowmen.

Using the sticky side of each marshmallow half as the glue, attach them to the tops of the cookies.

Pour the icing on top of the marshmallow to create a melted effect.

On the top of each marshmallow, add two black sprinkles as the eyes and an orange sprinkle as the nose to make the snowman face.

Lastly, add the Reese's hat to the side of the Melting Snowman Blondie! Enjoy!
Made with these products: