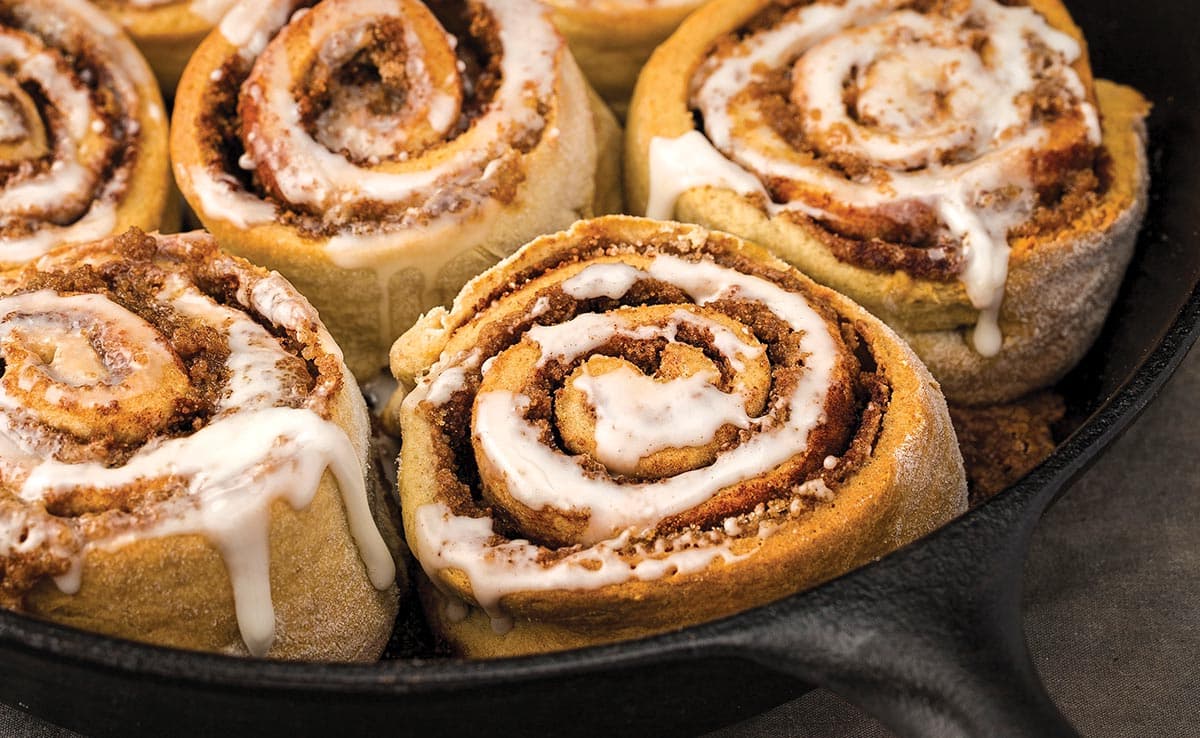 Almond Flour Gluten-Free Cinnamon Rolls
Nutrition Information
Total Fat
45g
Total Carbohydrates
88g
Cholesterol
125mg
Sodium
90mg
Dietary Fiber
5g
Sugars
42g
Protein
15g
Ingredients
Dough:
¼ cup warm water

1 tablespoon sugar

1 packet active dry yeast

2 eggs

6 tablespoons butter, melted

¾ cup milk

½ cup sugar

1 teaspoon vanilla
Filling:
¼ cup butter

⅓ cup almond butter

¼ cup granulated sugar

½ cup brown sugar

2 tablespoons cinnamon powder

Frosting:

½ cup butter, softened

½ cup powdered sugar

¼ cup cream cheese

1 teaspoon vanilla

Pinch of salt
Frosting:
Directions
Dough
Place water in microwave and heat to 110°F. Combine with 1 tablespoon of sugar and yeast and set aside to proof for about 5 to 10 minutes. Mixture will bubble and start to foam.

In a food processor, combine dry ingredients and pulse for 30 seconds until well blended.

Once yeast is proofed, add in eggs, butter, milk, sugar and vanilla. Mix briefly and slowly add flour mixture one cup at a time. Turn mixer up to medium-high and beat for 2 minutes. The dough will become less sticky as it is mixed.

Cover a large cutting board or baking sheet with plastic wrap and dust with gluten-free flour blend. Make sure to tuck ends of plastic wrap under the edges of the board. Place dough on plastic wrap, dust with more gluten-free flour blend and cover again with plastic wrap. Roll out dough into a large rectangle and gently peel off top layer of plastic wrap.
Filling
In a bowl, combine butter and almond butter. Microwave for about 30 seconds, until melted together. Spread mixture on top of dough. Evenly sprinkle the granulated sugar, brown sugar and cinnamon on top of butter mixture. To roll the dough, start with the smaller side and gently tuck and roll your dough; untuck one end of the plastic wrap and pull in the direction you are rolling your dough to assist in keeping the roll tight.

Using a serrated knife, cut roll into eight even slices.

Place rolls cut side down on a buttered pie plate or cast iron skillet. Cover and let sit for 15 minutes.

Bake 25 minutes until golden brown.
Frosting
While rolls are baking, place frosting ingredients in a mixing bowl and beat on high until smooth for about 3 minutes.

Drizzle rolls with frosting as soon as they come out of the oven and serve warm.
Made with these products: