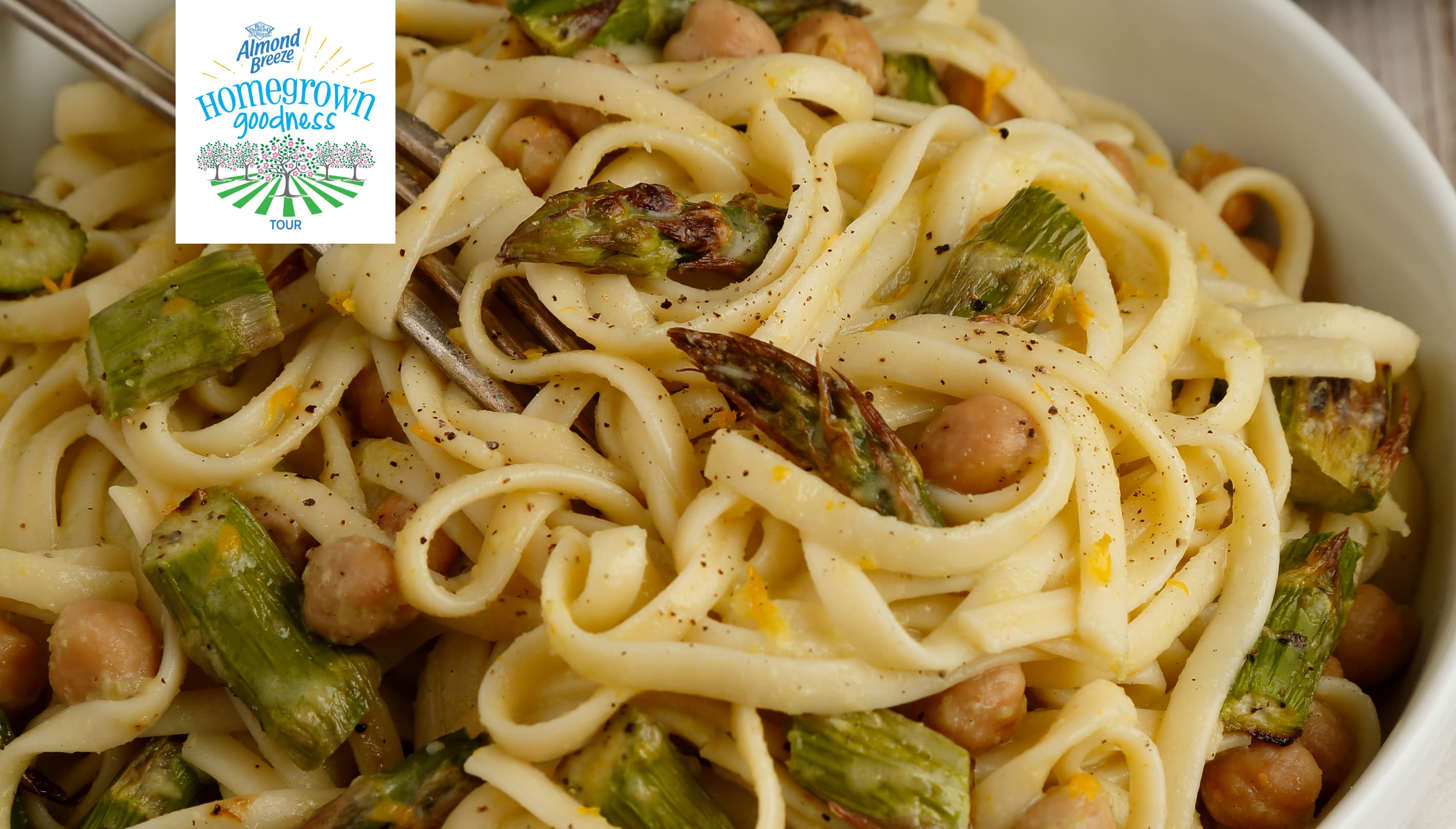 Creamy Lemon Garlic Pasta
Nutrition Information
Total Fat
6g
Total Carbohydrates
53g
Sodium
630mg
Potassium
233mg
Dietary Fiber
6g
Sugars
3g
Protein
11g
Ingredients
1 large bunch medium size asparagus

1 (15-oz.) can garbanzo beans rinsed and drained

2 tablespoons olive oil divided

1 1/2 teaspoons each: salt pepper and garlic powder divided

1 pound dry pasta and shape (or gluten free pasta)

Zest and juice from 2 lemons

Shaved parmesan cheese or 2 to 3 tablespoons nutritional yeast (optional)
Directions
Preheat oven to 450°F and line a baking sheet with foil. Trim about 2-inches of the bottom tough ends from asparagus spears and set aside. Cut remaining asparagus into 1-inch pieces and place on lined baking sheet with garbanzo beans. Drizzle with 1 tablespoon oil and sprinkle with 1/2 teaspoon each salt, pepper and garlic powder; toss well to coat. Roast for 20 minutes or until asparagus is tender and beans are slightly toasted.

Meanwhile, bring a large pot of water to a boil. Add reserved asparagus bottoms and cook until very tender. Remove with a slotted spoon and place into a food processor or blender.

Add pasta to boiling water and cook to al dente. Drain well and return to pot.

While pasta is cooking, add Almond Breeze, remaining olive oil, remaining seasonings, lemon zest and juice to blender or food processor with boiled asparagus. Blend until smooth.

Toss sauce with hot cooked pasta and stir in roasted asparagus and garbanzo beans.
Made with these products: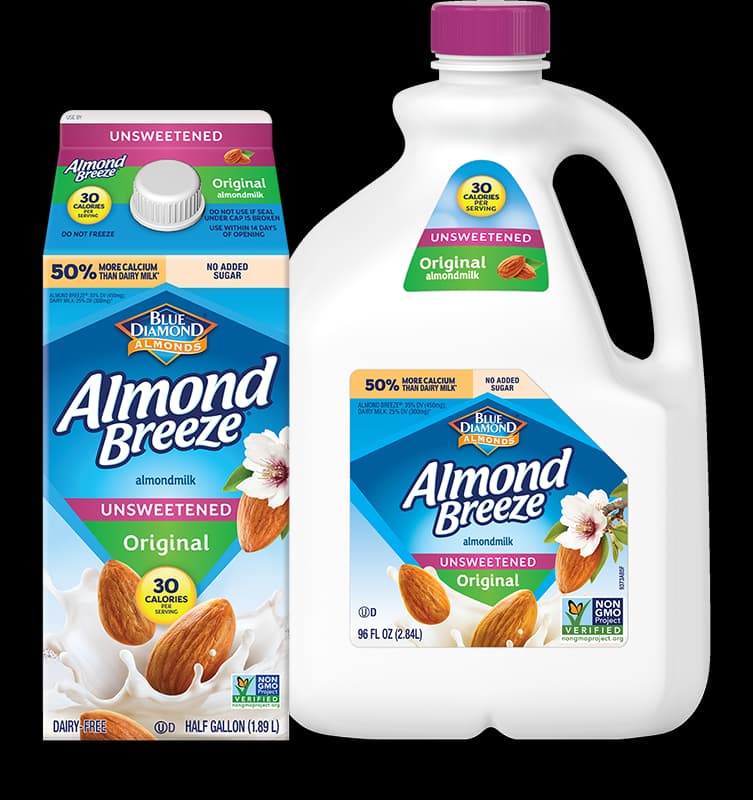 Unsweetened Original Almondmilk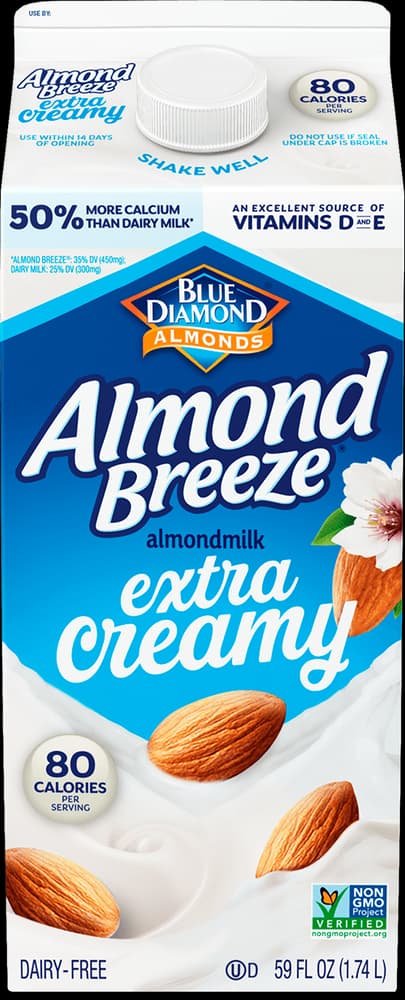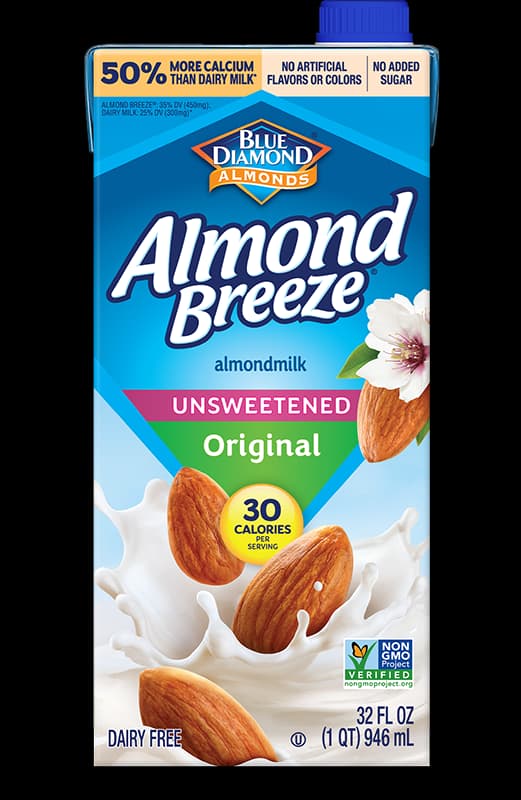 Shelf Stable Unsweetened Original Almondmilk
Featured In: Food Festival